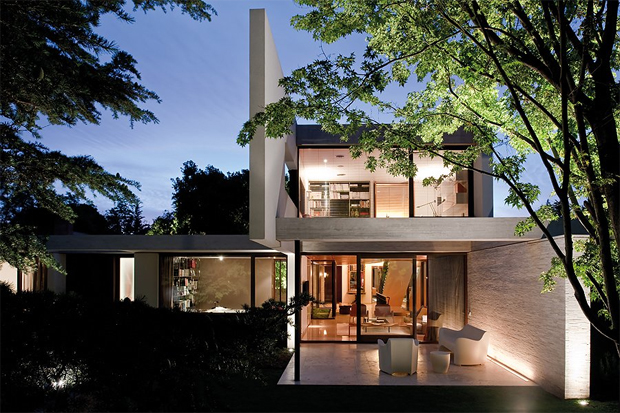 Fray Leon House by 57 Studio Architects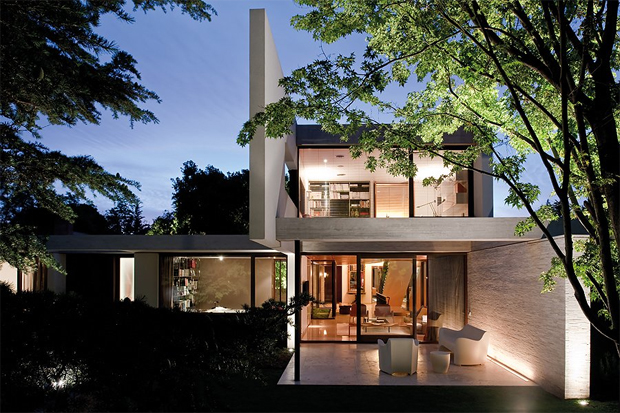 I thought I'd begin the week with a slice of architecture as I've not come across too much myself since thursday's film with the one and only Jen's Risom. Today I've opted for more of a recent build with this contemporary design from Chile, created by architectural firm 57 Studio. I felt what really made Jens' home was the careful selection of interesting objects around the home within quite an understated and simplistic house design. In contrast the Fray Leon House, seen above and below, looks to question what traditional should look like so I've really enjoyed comparing the two approaches.
What we have here I would describe as less classic and leaning more towards a statement build incased within a minimal aesthetic. When I say this I'm referring to its tall dramatic stature, and stark white walls that really made this construction stand out to me whilst I was browsing around earlier. I don't mean this as a criticism by any means, there is certainly an underlying strength to its individual composition that reminded me of a life-sized 3d puzzle. Although in saying this I think the design will draw ambivalent reactions given its unique approach.
The house itself is found within the east of Satiago, Chile's capital in a district known for its old trees. The plot the Fray Leon house is built upon has a great number of local trees that have been emphasised by their placement in reference to the view from the inside. The first level is organised around a native Peumo (cryptocaria alba) that goes along with the access from the south with the H shape of the ground floor.
For the most part I enjoyed the idea of this design but I just feel like if it was refined further, shedding a little bulk and realigning areas to match that of a grid, it could be really memorable. I purposely brought across only exterior shots of the house because I felt this was where the construction looked to think outside of the box and get creative, which is admirable. The house provoked me to start thinking what my approach would have been and for this reason I thought I'd bring it across to you all here. Take a look for yourself and see what you think, for further information and other constructions by 57 Studio follow the link below.