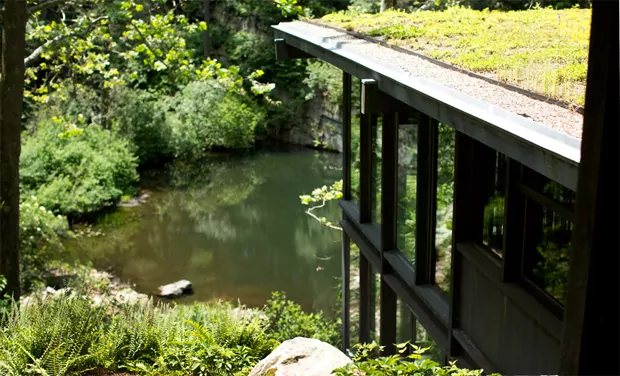 Garance Dore Photographs Russel Wright's Home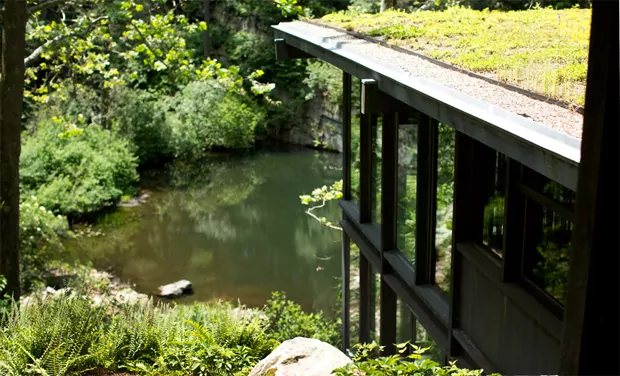 After sharing the work of the late great sculptor Constantin Brancusi yesterday I felt compelled to search out another master if you will that is no longer with us. Given we've featured a good number of names that the history books won't let us forget, I found myself searching over a few that we'd visited before to see if we could unearth any further context to these select marvellous minds. I began with quite a few of the famous ones and landed upon the page of French blogger Garance Dore who had recently revisited the Manitoga, once home to American mid-century icon Russel Wright.
For me personally this house is a big inspiration as it really encapsulates the idea of living at one with nature, creating a sort of narrative and dialog with the homes surroundings. Wright aimed to marry the structure of the house with its landscape through the use of materials found on the property, such as stone and timber. We don't get to see all of its glory in this series here but we can note elements like the lounge fireplace in the sixth image down, and the green roof that camouflages its steel encasing also. Areas like these come to typify what this home is all about, making the most of what's available locally to create something individual, creative and quirky.
One element that I was really eager to see again, but unfortunately wasn't featured here, is the handcrafted door knobs that the designer mostly made himself. No two are the same and these really add an air of personality and humour that compliments the homes structure perfectly. We can see the collection of walking sticks taking pride of place however which are all made with the same love and attention to detail. What I admire most is this idea that Russel had everything for a use, the house is packed full of experiments such as pine needles mixed with paint to create texture on the walls, and large stones used as walls, stairs and floors.
I think there are big lessons to be learnt here, especially if you are serious about building your own home one day, something that I certainly aspire to do. Here's an individual who has the ability to create whatever lavish house he desires and instead opts for a humble dwelling that not only makes the most of the local materials, but also flawlessly matches its surroundings too. I'll leave the link for Russel's foundation below for those wishing to find out a little more, and perhaps even visit for yourself. This topic isn't typical of what Garance tends to post as she is more of a fashion blogger, however for those that would like to see more I'll leave the link to her also. Enjoy.
www.garancedore.fr
www.russelwrightcenter.org