Hidden Valley Home by Marmol Radziner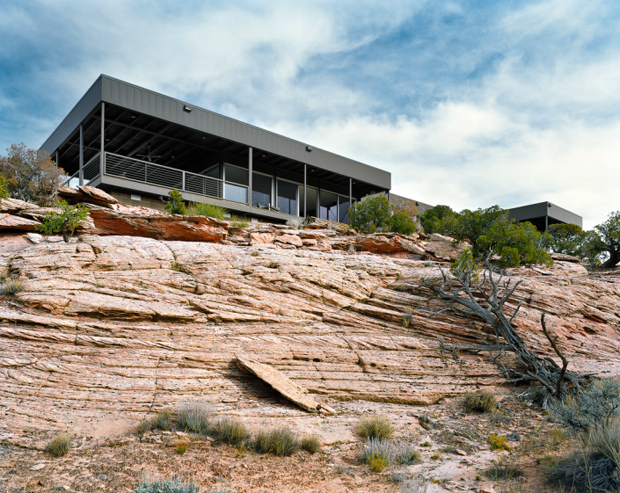 Given our mid-century tastes in architecture recently built projects don't tend to crop up every day that impress us, I guess we are rather selective. However, today I've been admiring the work of Marmol Radziner again and this prefabricated build they've put together in the Moab desert of Utah which has been used as a vacation home by it's two adventure seeking owners. I've decided to highlight this house because I think it's a great example of how eloquent a prefabricated home can be. I often hear preconceived notions that the quality isn't the same with prefabrication but I think the imagery found above and below is pretty damming evidence against this type of opinion, hopefully we can quash this idea and change a few opinions with what we're showcasing.
To create something so understated yet eye pleasing in such a vast environment is no mean feat, you have to admire what they've achieved here. This was all made possible by five individual modules which have been married up with seven decked areas that help break the home up and prevent it from looking disjointed. These connecting decks really do add a much needed visual flow to the property and the best example of this is the guest wing where they lead your eye from the main lounge into this separate apartment. Along the path is where the best view of the pool can be had with the rock in the foreground providing a picturesque view from the poolside, making it an ideal place to relax as the sun is going down at the end of the day.
My favourite view of the house can be seen below in the third image where you can appreciate the position of the house in relation to it's environment, with the main axis running in parallel to the raised rocky area. I love the contrast on the other side of the house too where you can look out onto the flat planes of the desert, making the home a fantastic place for contemplation. You can certainly see why this has been called the "hidden valley home", and although this would probably be rather lonesome permanently as a vacation place to recharge the batteries and relax I don't think I've come across anything better. If you've got the time and urge to learn more about this home and other by Marmol Radziner I can really recommend the click across to their webpage, I'm sure you won't be disappointed with what you find.