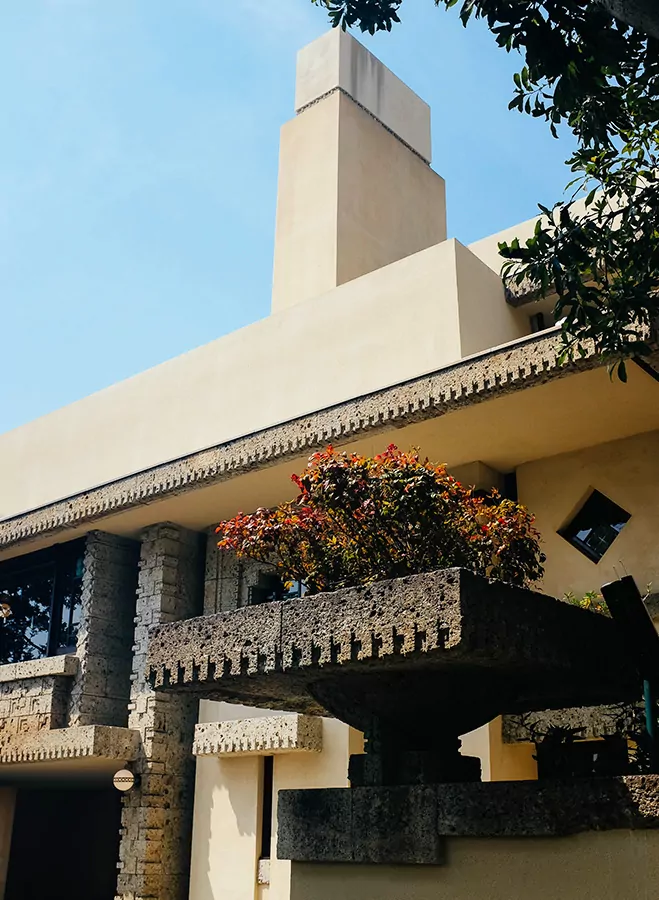 Organic Architecture – Yodoko Guest House by Frank Lloyd Wright in Hyogo, Japan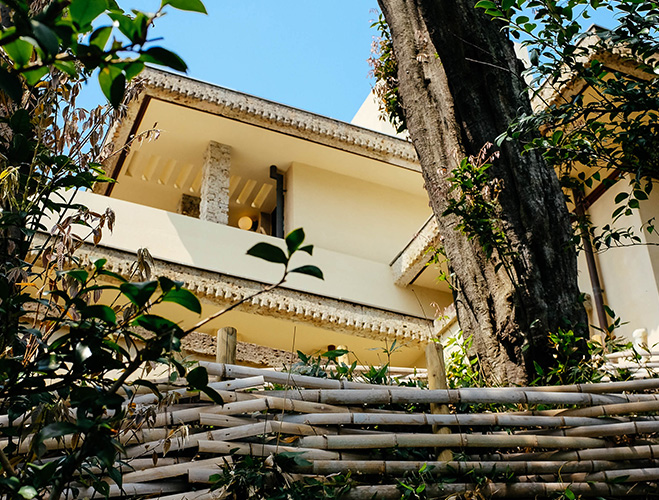 What a beauty! A house designed by Frank Lloyd Wright in Ashiya, Hyogo, Japan. This is the only private residence designed by Wright in Japan and was pushed through the construction phase by two of his trusted disciples, Arata Endo and Makoto Minami. The House itself was a second home for Tazaemon Yamamura, who was the eighth-generation brewer of the famous sake company "Sakuramasamune" in Nada. After quite a chequered history, passing through various people and companies, it's now owned by Yodogawa Steel Works and has been painstakingly renovated after damage caused during the Great Hanshin-Awaji Earthquake in 1995.
Frank Lloyd Wright finished the basic design for the house in 1918 when he came to Japan to oversee the construction of his design for the Imperial Hotel in Tokyo. He had been to Japan several times as he was a keen collector of Japanese ukiyo-e wood block prints and in many ways this aesthetic helped guide some of his principles as an architect. Construction itself was completed in 1924, so it's amazing to think a property that's so natural, working off his principles of 'Organic Architecture', still feels wonderfully open and modern today after 100 years has passed. Certainly inspiring and I'm glad they've been able to preserve it and properly give it the backing it deserves so the general public can also enjoy it.
While most of Wright's works were built in the United States approximately 10 or so were designed for locations in Japan. Seven of these saw construction but two are the only ones remaining in their original form today, a school in Tokyo and the Yodoko Guest House. I think the quote below is very fitting for this property as I was struck by the integration of this building in to the landscape and how the materials used felt so in keeping with the natural materials found outside the property. There was an honest cohesiveness, something rare to find in this day and age.
Obviously not thought of by Wright himself, but I also enjoyed the choice of Japanese objects used throughout the home. There were some beautiful glass cups and pottery that went together well with this darker, earthy style inside the property. Here are a few pictures of the exterior, interior, and details that caught my eye. Certainly worth a visit if you're ever in Osaka or the Kansai area and have some time to spare. More information can be found on their website linked below.
"Study nature, love nature, stay close to nature. It will never fail you."
– Frank Lloyd Wright
Photos: Mark Robinson