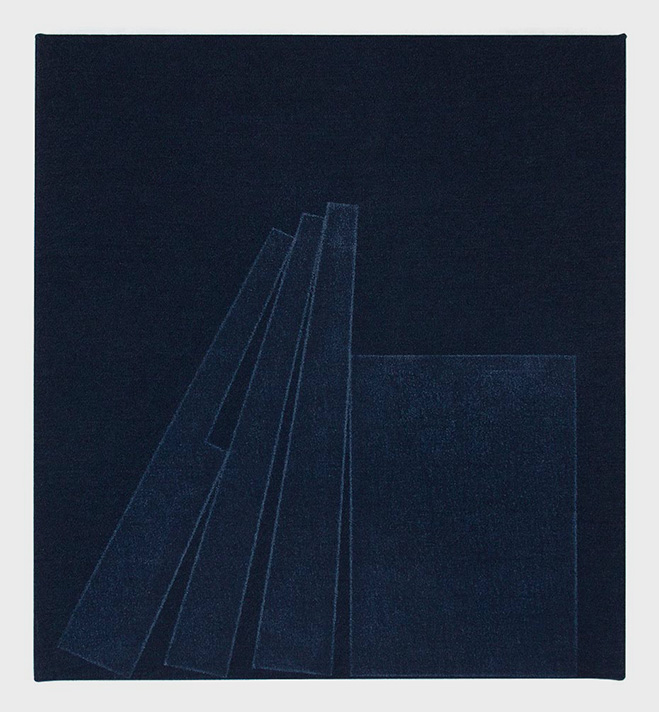 Denim and Indigo – Dyed Canvas Works by American Artist Michael Milano
When you listen to artists you usually hear about what inspires them to explore different subjects and themes in their work. Sometimes they are glamorous things such as exploring images that they had as a child, or nature and how it's connected to us as human beings, but rarely you hear about the monotonous nature of things and how this can inspire artwork. I suppose some people see it as gloomy or pessimistic, but that's why I was intrigued by this work by American artist Michael Milano as it's on the opposite end of the spectrum.
Michael Milano is an artist, writer, and curator living and working in Indianapolis. He has produced a number of fabric based paintings that mix textile traditions with the history of abstraction. In this work you can see he uses a number of processes, for example combining dyeing, pressing and distressing to highlight simple shapes and forms in the background or forefront of the canvas. The artist says that his motivation is the "ubiquitous and seemingly mundane quality of cloth", which is really intriguing to me as they are both playful and characterful.
This source of repetition can be traced to the craftsmen who work in such fields as the textile industry. They dedicate themselves to doing something very repetitive in nature, but still find themselves chasing form and shape to make objects that can stand the test of time. Here are a few photos from Michael's portfolio that I enjoyed personally, others can be found on the link below. Enjoy.