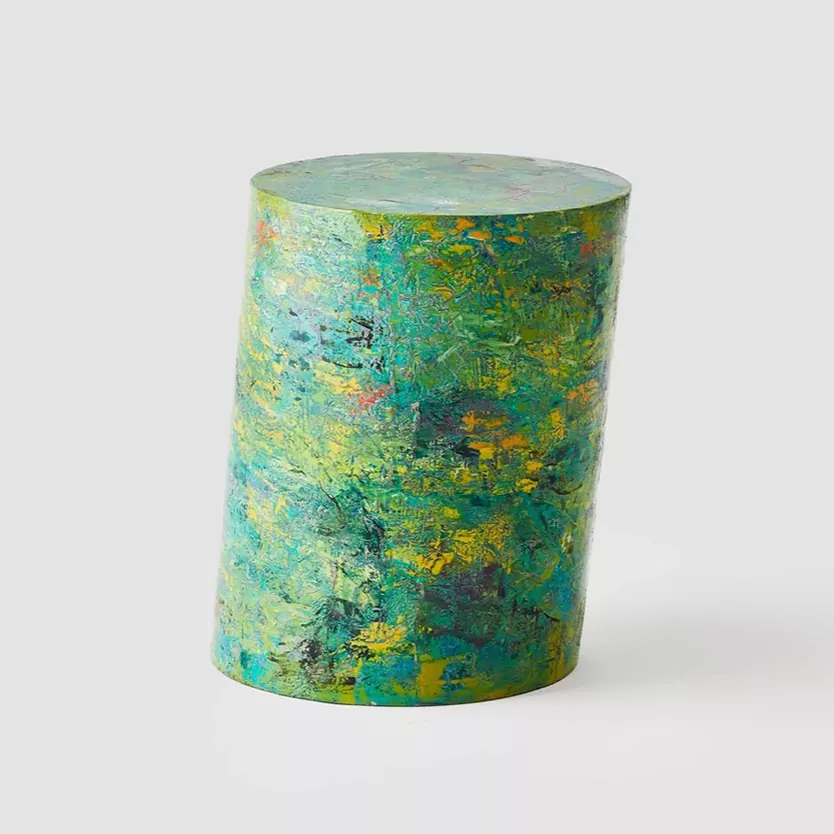 The Merge Series – Painting and Furniture by Okkim Studio
Okkim draws upon her Korean heritage to present a contemporary approach to the traditional practice of lacquering objects for decoration and longevity. Known as Ottchil, the process involves layering natural resin from lacquer trees onto an object, resulting in stunningly beautiful surface qualities that will last thousands of years if applied correctly. The Seoul-based artist first employed this layering approach on furniture and has since added paintings, sculpture, and installation to her explosively colourful range.
The Merge Series consists of geometric sections of steel covered in many layers of colour to produce vibrant effects that bring these cylinders and rectangular prisms to life. Many of these stools lean to one side, making them more ergonomic as well as adding dynamism to otherwise static forms. Some pieces in the series are stacked in contrasting directions, reading as some combination of haphazard and immovable. Up close, the glossy surfaces resemble tectonic maps rendered in the infrared spectrum or drawing on a hundred variations of creme and copper tones. The layers are applied, sanded, and finished over the course of months, lending a sense of geological time in the undulating pigments and textural statements.
In her Merge Series Paintings, Okkim addresses the sides of her "canvases" as well as the main surface, creating geometric compositions that employ the same toothed texture as her Ottchil explorations on furniture. The variations of colour are separated by physical edges or clean lines in the middle of a surface, playing with perspective and resulting in a kind of optical illusion that seems to vibrate with activity. These painted objects are often freestanding, offering a material weight to the compositions in addition to visual depth.
To see all of Okkim projects and learn about her fresh approach to this traditional lacquering technique, visit her website at the link below.