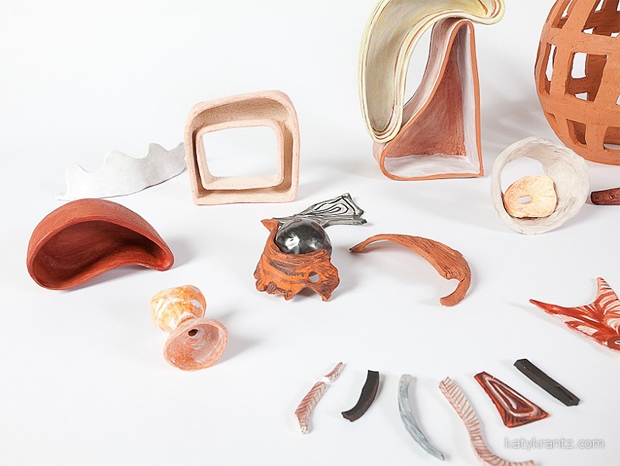 Found Objects by Katy Krantz
Whilst the office is quickly becoming overrun by small handcrafted miscellaneous objects it felt quite appropriate to highlight the work of ceramic artist and teacher Katy Krantz. This collection I'm highlighting today, which is titled "Found Objects", has been curated from the offcuts and unused material from around Katy's studio which she has created into quirky objects packed full of character and charm. This series in fact made up an installation at the Soil Gallery in Seattle last year which I'm really jealous that I didn't get to attend.
Thankfully Katy has provided a slice of what was on show and it didn't take me too long to gather these up and bundle them across here for us all to enjoy. Each works as a great reminder of what we can achieve with the items we initially regard as useless waste, a lot like the up-cycled furniture of Patrick and Regitze Kerti that we previously featured in the format. Recently the battle of minimalism vs handcrafted objects has been raging on in my mind, but I really find it hard not to admire items like these that have such story and individual substance embedded within them.
What I love most about this type of object is you can instantly see the marks the maker has left, be it through the strokes of the brush, hand or tool there is always details to scan your eye over and admire. If this is the sort of project that excited you too I'd recommend heading over to Katy's webpage and bookmarking it for future reference. As always I'll leave the link just below – Enjoy!