New Norm Dinnerware by Norm and Menu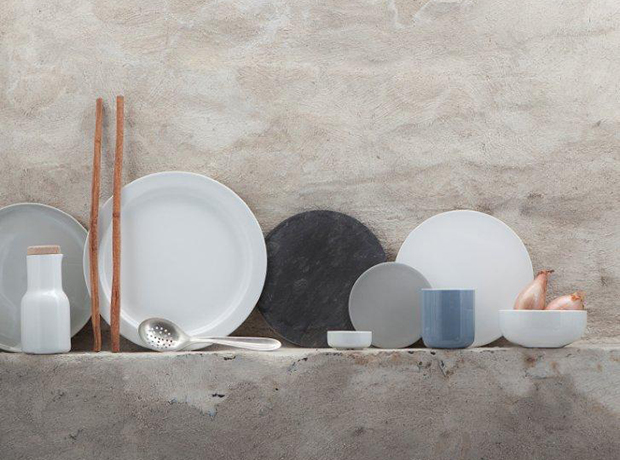 It's funny how certain projects inspire others just by pure accident. I often find in my own work, little things spark off new and interesting ideas that could quite easily bolt on to an existing theme. A collaboration that interested me this weekend was a collection of tableware designed by architects Norm and produced by Danish design house Menu. Although it seems like a basic set of ceramics at first glance, the New Norm Dinnerware is part of a larger story, one that sees this set mixed with food to compliment a project that was started thanks to the opening of Copenhagen restaurant Höst.
Höst is a fantastic Danish restaurant that has lots of contemporary Scandinavian elements, but is mixed with a certain "rustic" charm. So this dinner set is a reflection of that and incorporates a similar vibe, so all of these are custom made for Höst but can now be purchased at Stilleben, a small shop in Copenhagen, and this month they will be available at selected retailers world wide. I have to commend the architects and designers for their eye, using nice clean lines on all the plates so they fit in with the nordic feel of the restaurant. Most importantly they're versatile for dining use, at the end of the day you need to use a variety of plates for a mixture of situations, especially when it's a restaurant. So practical as well (you know I love that).
The collection itself centres around the basic white plate, which can change it's look with a smaller blue or grey plate, even a granite slab, placed on top. You will find online inspiration thanks to the New Norm website which gives us moods and recipes, presenting food actually on the plates and vessels themselves. This gives us a clear indication of what these objects look like combined with all the fresh and natural produce. The way chefs serve food on a plate reminds me of Ikebana, the Japanese art of flower arrangement. It's more than just putting food on a plate, it's a disciplined art form which nature and humanity are brought together. You need to look at space, colour, also the form of the food, all these details count. The fantastic photographs that you see above and below present us with a combined look at the tableware all made by hand and some detail shots with food on a plate. That's not something you see all too often, so I hope you enjoy these above and below, also the other photos on their website.