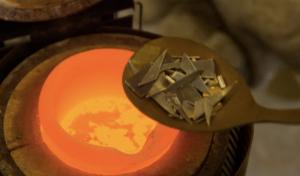 Allan Adler Short Film
We've really gone to town recently on the whole craftsmanship vibe, sharing short films on ceramists, boat builders, traditional bread-makers and today Silversmiths Allan Adler. Built on a foundation that dates back to the 1940's, Allan opened a studio where he mastered designing, spinning, forging and polishing both silver and gold.
Mr Adler's passion for creating beautiful objects by hand offered him the opportunity to design pieces for the likes of Frank Sinatra, Eleanor Roosevelt and Michael Jackson all of which were regular customers. It's nice to see Allan's legacy of using traditional techniques still being continued today, as we get several looks at some silver getting cast and shaped by one of his dedicated craftsman.
It's sad to hear of Allan's passing in 2002 as he sounds like such an inspiring individual, but it's refreshing to learn of his legacy being continued by his daughter and grandson who both work for the company. For those who would like to learn a little more about Allan Adler and his ventures I'd recommend heading over to his website, for what is quite a fascinating and insightful read.