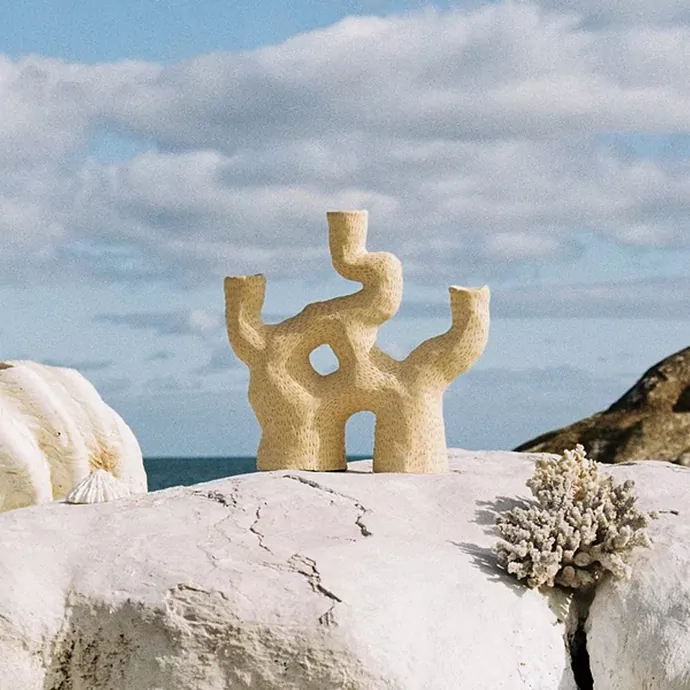 Channelling the Elements – The Candelabra Series by Jan Ernst
What I like about the Candelabra series, by multi-disciplinary South African artist Jan Ernst, is that they seem to have been formed by nature herself. The wind and the sea have carved out their bodies, the earth has provided their colour.
Inspired by the dramatic beauty of the South African landscape, the Candelabra series are functional objects that remind us of the monolithic rock formations, in shades of amber and ochre, that inhabit the vast canyons of Cederberg just outside of Cape Town. Such forms evoke "primal" feelings that perhaps remind us of when the ancients sought refuge in the shade of those rocky structures.
With this unique series, Ernst really shows us his true fascination with natural structures, ecological systems and biology – caves, ant or termite hills, deep sea corals, natural rock formations, and fungi come to mind. One of Ernst's most significant sources of inspiration for this series is, in fact, how the natural elements, like wind and sea, are able to 'sculpt' and give form to the surface of the earth and the bottom of the sea.
It would make sense that clay is Ernst's preferred medium. There is such an inherently organic quality and earthiness to this material, and its malleability allows for a fluid approach when working with it. Ernst also creates tiny perforations or feint scratches to the surface of his pieces, which adds a particular texture that mimics repetitive gestures such as a sea current forming waves in the sand or the wind and rain etching the face of a rock.
I also like the idea of the wax falling naturally onto the Candelabra, like lava spewing from an underwater volcano, and I imagine the shape of the wax would compliment the natural shape of the candelabra and enhances its organic quality.