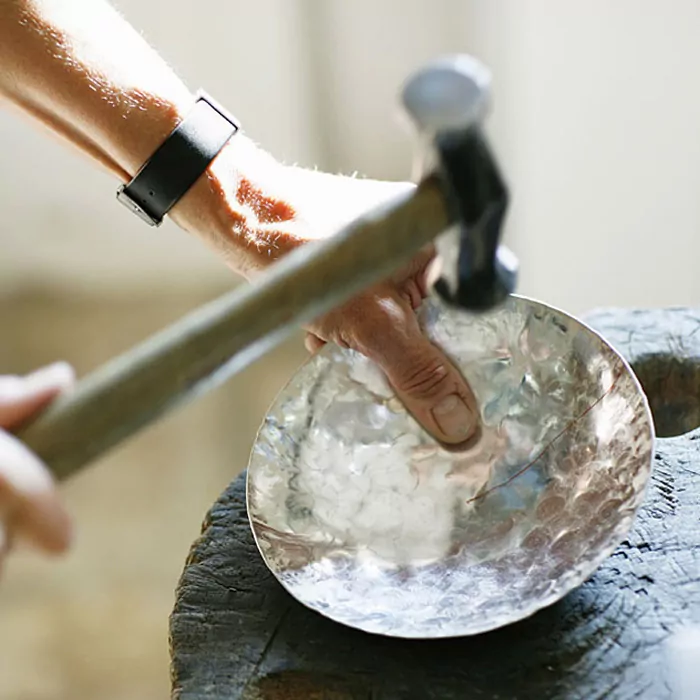 A Subtle Balance – Silver Objects Crafted by Josephine Lützel
After many years studying tableware German silversmith Josephine Lützel has realised that certain objects should be designed with a specific function in mind. For example, a drinker of coffee in the morning may need several cups of coffee, so the ideal coffee pot should have just the right amount of volume. For Lützel the functionality of tableware is of central importance. Therefore, the function of each piece in her range of silver tableware is the main requirement and she believes the form and function sit hand in hand. Nevertheless, she uses subtle changes in the shapes to give the objects an artistic element. Her careful craftsmanship and her subtlety at mixing form and function has produced a range of work of such high quality that are wonderfully timeless.
It is evident that the range, which includes coffee and teapots, fruit bowls, mugs, pepper mills, cutlery and candlesticks, are made for people who value a well-laid table and the beauty of handcrafted objects. Even with there high value, Lützel has always made it clear that her work is specifically made for daily use, however, based on the geometrical shapes they also have an artistic life of their own. The beauty in each object lends itself to double up as an art piece that can be used exclusively to decorate any part of the home.
Even though it's incredibly difficult to work with and it tarnishes quickly, Lützel has chosen silver as her preferred material; It suits both the form and function perfectly. If constructed from any other material her pieces may not have such a striking appearance. Considering each piece carefully it can be said that Lützel has found the quintessential recipe for highly valuable kitchen treasures that will no doubt be held up as the pinnacle of mixing modern design and craft.