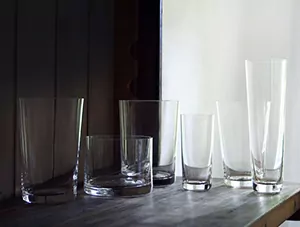 Crisp & Cystral Clear – Glassware by Designer Deborah Ehrlich
A designer in collaboration with a craftsman can often lead to some exciting results. I guess in a lot of ways it's the perfect collaboration, a designer with an eye for style and form, alongside a maker who's gifted when it comes to working in a certain material. I've seen it before with Japanese metalworkers Kaikado, who had their collection of goods re-designed by Danish design studio OeO, the result was truly mesmerising.
This selection that I'm sharing here today has been made in a slightly less brash material than metal, humble glassware designed by Deborah Ehrlich. Based in Accord, New York Deborah stumbled across glass production for the first time when studying at the School of Design at the Royal Danish Academy of Fine Arts in Copenhagen, and this fate inspired her to design her own collection. She starts her design process by sketching on paper, once a form has been chiseled out as a drawing she works with a Swedish glassblower to perfect them. All are hand-blown, hand-cut, and hand-polished, so they're extremely high in quality.
What struck me was the crisp form of each vessel, standing their quietly and not bringing too much attention to themselves. It's only when you pick them up do their thin walls and beautiful balance really affect your outlook on everyday life. Her collection includes drinking glasses, stemware, vases, lighting, sculptural works, and a selection of custom designs. All in all these are flawless, and I certainly wouldn't mind drinking from them.