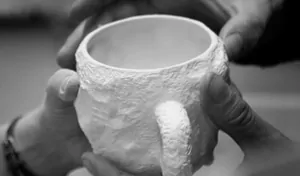 Crockery by Max Lamb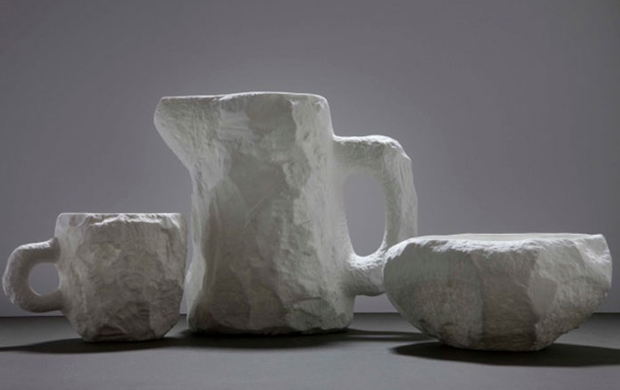 I've been meaning to post about Max Lamb for many months now, If I recall correctly I think I wrote a little piece on him a year ago which was about his collaboration with Dunhill on a chair. It was an interesting project but for some reason or another I've never got around to posting up more of his independent work, such as his little items in the Makers and Brothers shop. It's a real shame since he's one inspiring individual who designs some superb objects, not only that but he gets really involved in the making process, something I love to see. I think it's quite easy for an accomplished designer to sit back and draw up an idea and then let a factory or big company follow through with it, what's more interesting is the way in which a designer can take up a craft and really immerse himself in it. For example you'll often see Max hammering together wood to make a piece of furniture or even playing with metal to get a nice object (check out this video of him making a hexagonal pewter stool if you haven't already, it's pretty special!). It's something we've been thinking about ourselves here, to understand the subjects that we talk about more in-depth we're going to be visiting a lot more workshops and spending more time making furniture, ceramics and other obscure objects. I think it will definitely help us in the long run and will be quite inspiring to say the least.
So this specific project that I've pulled out today from Max Lamb's portfolio is quite a new one, in fact very new. It's titled 'Crockery' and is basically a collection of fine bone china tableware cast from moulds carved by Lamb himself. Made in Staffordshire, England the collection consists of a jug, bowl and mug that was created using the process of slip-casting. It all begins with a three-dimensional model of the design known as the 'master', which was carved by Max using the tools of a stone mason. Lamb chips away a solid block of plaster to make these three different functional objects, what I like is the way he's used traditional tools and traditional materials, basically he's communicating the basic shape in it's purest form. Although rustic they're quite incredible pieces of art in my opinion, but they can be used as well, amazing how we instantly know as a human what these are and what we're supposed to do with them (what can and can't go inside them). There's plenty more pictures over on the 1182 LTD website so I'd definitely recommend checking them out for some added inspiration tonight, likewise the Max Lamb portfolio for other projects.
www.maxlamb.org
www.1882ltd.com