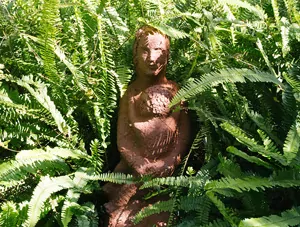 Karl Duldig & Slawa Horowitz – A Visit to Duldig Studio in Melbourne, Australia
On a trip to Australia late last year I visited the Duldig Studio and sculpture garden in Malvern East, a suburb of Melbourne. This location is fairly hidden on a normal suburban street, only the unique sculpture scattered on the front lawn gives you a clue to what lies behind the front door of this property.
This is the former home and studio of sculptor Karl Duldig and his wife, artist and inventor, Slawa Duldig née Horowitz. Karl was born in Poland and later moved to Vienna when he was a child. While studying under noted Austrian sculptor Anton Hanak he met his future wife. Both were talented in many aspects of art and lived a life of constant creativity, literally immersing themselves in the creative process on a daily basis. Whilst Karl focused heavily on sculpture, Slawa dabbled in design and painting and went on the invent a new type of folding umbrella. Many of the furniture and objects inside were designed by her, which are modular in form and have a Bauhaus inspired look that's even relevant today.
As you make your way to the back of the property Karl's original studio resides there, a place in which he experimented with sculpture and pottery using mainly terracotta clay. These sculptures can be seen in the garden, as well as some metal ones that have been casted from these original clay versions. The whole setup is not only inspiring because of their output as artists, it's also wonderful to see how they integrated themselves in to a creative environment and lived and breathed this mentality their whole lives. A must visit if you're ever in Melbourne.