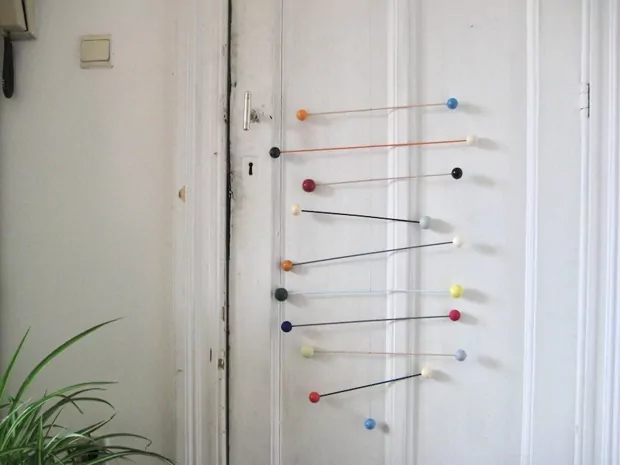 Mobiles by Renilde De Peuter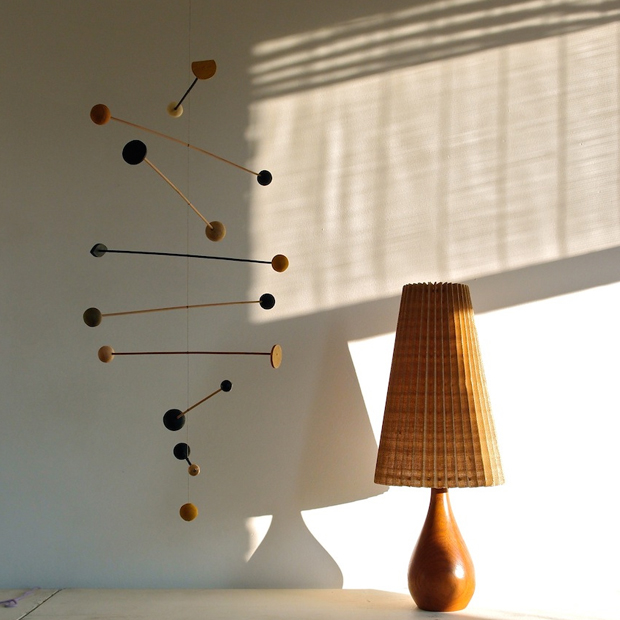 I've been swooning for a few weeks over Renilde de Peuter's mobiles, you may know this creative through her blog called "At Swim Two Birds" which she named after a Flann O'Brien novel. She's a real talent and is basically a graduate of the Royal Academy of Fine Arts in Antwerp, Belgium and is well known for her textiles, also knitting and patchwork. These mobiles have been available to purchase through the Mr. Kitly shop and they're absolutely incredible, so when I came across her Flickr profile page this morning for a closer examination I discovered a variety of shots of the mobiles and some stunning photography to compliment.
A lot of Renilde's work is made from recycled materials and these mobiles are no different, they usually feature large and small multi-coloured wooden balls or other wooden geometric shapes which are enticing to the eye and are one of a kind. I like how she hand paints each one and incorporates quite a simple structure, whatever way they would be beautiful to hang in the home. I'm very much tempted to get one myself, even if the shipping is a bit hefty in price all the way to me in Europe from Australia.
Obviously this is just one aspect of Renilde and her wonderful array of works, I would definitely recommend subscribing to her blog where she seems to offer something different on a daily basis and a lot of it is either her own works or photography taken by herself out and about. You can instantly get inspired by just scrolling through her archive. Check out my favourite selection above and below, you can find plenty more on either her blog or flickr account which can be located underneath.
www.at-swim-two-birds.blogspot.com
www.flickr.com/at-swim-two-birds