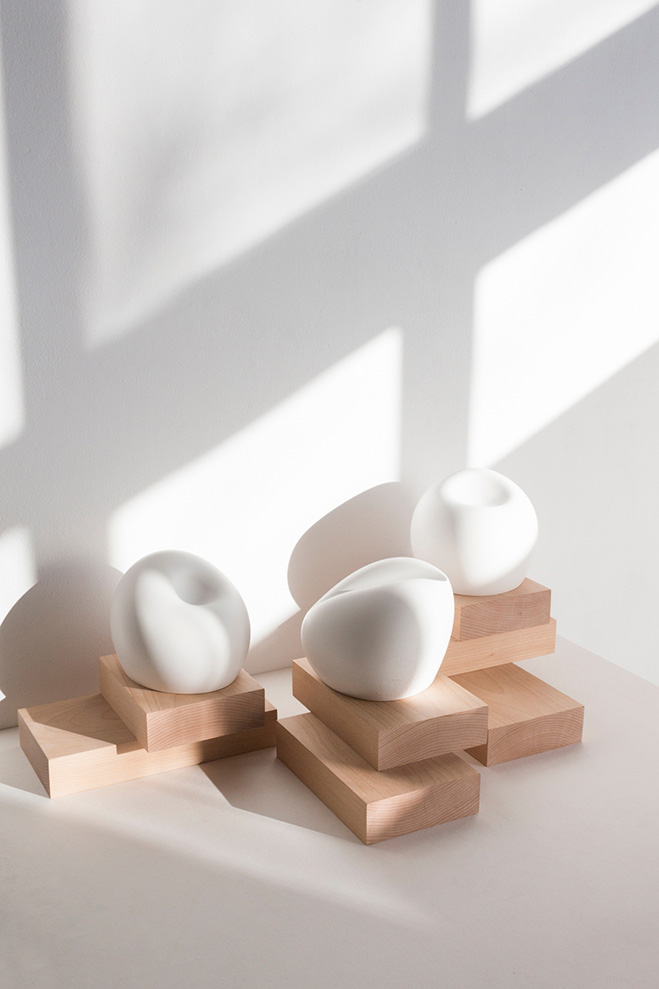 Mobiles & Stone Sculptures – Works by Spanish Artist Carla Cascales Alimbau
Spanish artist Carla Cascales Alimbau is currently exhibiting her work at Castellana 22 Gallery in Madrid, Spain. Titled Étimo, the exhibition that's taking place between January 11th and March 2nd, 2018 consists of a number of sculptures, all made from marble, wood and stone.
One of the most prominent works in the collection is a mobile sculpture that she constructed titled Crème, a piece made from raw cotton and aluminium. This big sculpture catches the light quite beautifully thanks to the half circles that are then lined with an opaque cotton for the light to shine trough. With movement these are sure to be impressive, quite a spectacle.
Another set of works that intrigued me are the stone powder sculptures that are casted and hand finished to create a very shiny surface that, when placed together, are like pebbles on the floor that create shadows amongst one another. Here I placed a small selection of work from her most recent exhibit, but I definitely reccomend heading over to her portfolio as she has other works on offer too. Seeing them as a group really gives new meaning to her work. Enjoy.