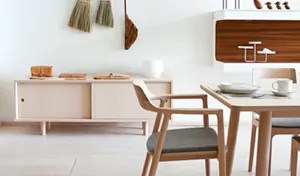 New Feature with John Baker, Owner and Co-Founder of Design Store Mjolk
The observant ones amongst us will have noticed that we've posted up our latest feature which showcases John Baker, co-founder of design store Mjolk. If you haven't had a read already I'd recommend taking some time out to as it's worked out to be one of our favourite interviews to date as owners John and Juli have very similar tastes to that of our own.
Based in Toronto, the Mjolk store sells lots of wonderful handcrafted home wear goods that have a simplistic and functional styling, akin to that of Japanese and Scandinavian design. The store itself is a throwback to the age where connecting with the maker was an integral part of everyday retail. But don't just take my word for it, head on through to learn a little more from one of the founders himself.
Click here to read the interview with John Baker of the Mjolk Store