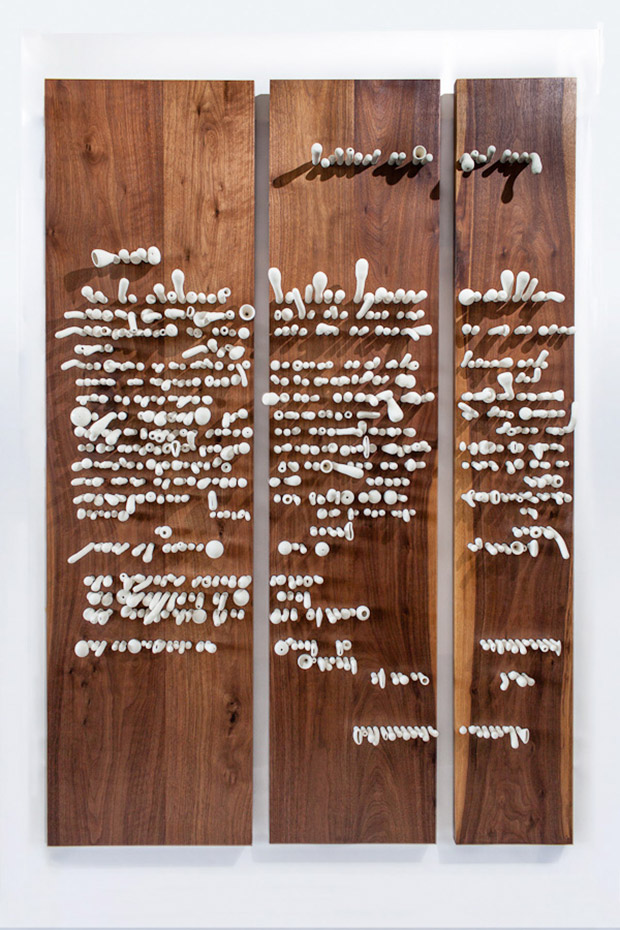 Porcelain Tableware and Wall Installations by Basma Osama
Recently, I have been considering the world of ceramics in terms of inspiration and as a personal pursuit. Being a purist, the beauty of materials in their raw, or near-raw state, is highly appealing. The endless amount of clay bodies, each with their individual characteristics, naturally lend themselves to the appreciation of materials. Porcelain, mostly comprised of kaolin, holds a special place in my eye because of its inherent smoothness. So when I came across Ceramik B. via the picture above, I was captivated by its calmness.
Ceramik B. was founded in 2007 by Montreal-based artist Basma Osama. She crafts ceramic tableware, and sells her work online and in a few stores and galleries in Canada. One thing I love is when an artist or designers work is consistent with their artist statement or design philosophy. Most of my first impressions and feelings about Basma's work are mentioned on her "about" page, her attraction to minimalism is apparent. The soft, yet clean lines, and subtle silhouettes create organic forms that just beg to be touched. The neutral palette and texture she employs supports the honesty of the porcelain, making each piece harmonious with the next. Basma's products function both as tableware and art.
In addition to tableware, Basma also produces unique installations. She explores the idea of communication and meaning, likening the lines, shapes and spaces of written language with those of forms and materials in three-dimensional space. Her piece, Letter No. 1 (pictured at the bottom of the page), is a part of her exploration and was inspired by a hand-written letter. The numerous hand-thrown pieces embedded in walnut mimic the idiosyncrasies of handwriting, allowing the viewer to "read" the piece through the lines, spaces, and forms. Together the elements create a visual language that speaks for itself. It is this kind of work that encourages me to keep practicing and developing my own vernacular.
ceramikb.com
cargocollective.com/basma