Tyndall Table, Bench Rack and Steel Wood Table by Thom Fougere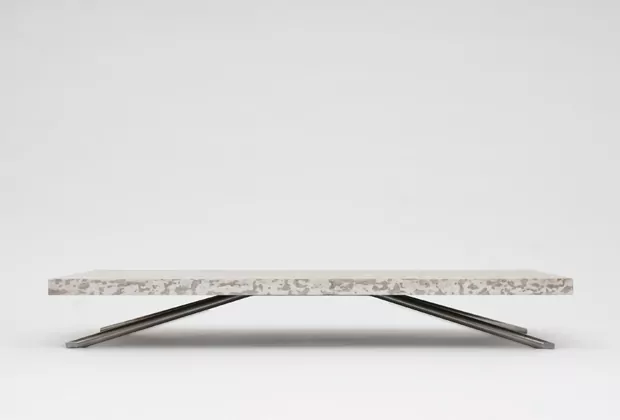 We've posted photography by Canadian creative Thom Fougere before but thanks to our friends at Mjolk/Kitka I had the inspiration to return back to his personal website and found these nicely designed furniture pieces. In particular I picked out the Tyndall Table, Bench Rack and the Steel Wood Table which are all pretty functional and minimal. Kitka showcased their new coffee table, the Tyndall Table, which they were lucky enough to get hold of the prototype which sits nicely in their front room.
What I liked about Thom's works is the fact that he's uses quite natural materials which sit nicely against a steel frame or structure. Take for example the Tyndall table that we talked about above, the coffee table is made out of a Manitoba tyndall stone and has some steel legs to support it, the top is unfinished which exposes fossil fragments and reveals stories embedded in the material itself. It's also nice that this stone is found in Canadian prairies and is a historic material in both architecture and building practices, it almost appears to float on the floor which is quite extraordinary. Something like this wouldn't look out of place in the Mies van der Rohe's building that I showcased yesterday, check that out here if you haven't already, a lot of the same type of materials are used throughout.
The other two pieces are really great as well and offer something very understated for the home and the living envioronment. I'm very impressed and will definitely keep my eye out for more progression from Thom in the near future. All of this photography was taken by Mark Reimer, see more on the Thom Fougere website via the link below.