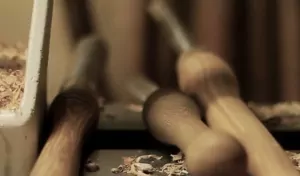 Short Film on Ben Kandel
Many of us the world over hear each day in the news about how the economic downturn is affecting the prospects of our young people, so it's refreshing to hear an alternative story in this short film about Ben Kandel. One of the positives for design is that the financial climate has presented us with people who are getting back into making things for themselves, which is exactly what Ben has chosen to do, starting his own wood turning venture.
In this short exchange for Telegraph Studios Ben diverges a little of the narrative behind how he got into creating wooden objects and later how he developed this into a viable career opportunity. Personally I think the lack of typical nine to five jobs is a perfect excuse for young people to look into homing their own skills and creating something for themselves, as it's clear Ben is really content with working in a field that he's immensely passionate about.
I'm ever the optimist so hopefully as the months and years roll by we will see more and more projects like TurningPro being created. I'm not overlooking the countless hours that working for yourself brings, I just hope that people will realise that they have the ability to change their own circumstances if they have enough will power and determination to create something of their own and trust in it for the long haul.