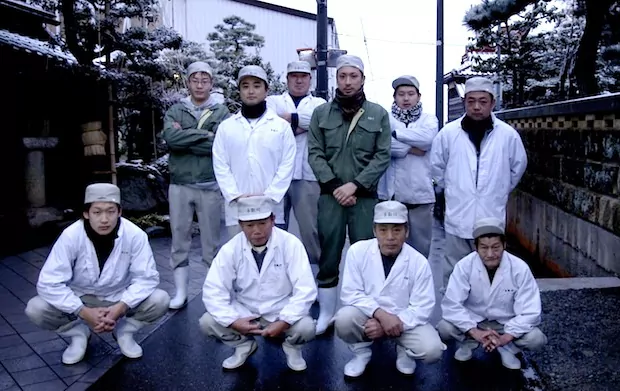 The Birth of Saké, A Film by Erik Shirai
Usually I have my finger on the pulse, but this time I let it slip a little. Saying that, I never shy away from the chance to learn more about a subject and soak up all the information like a sponge, hopefully you'll take away something from this piece as well. I came across a project that had recently been funded on Kickstarter, and since I've been watching a number of documentaries over the past month this slotted in nicely with existing content on the site.
'The Birth of Saké' is a documentary film that explores how sake is handcrafted at a family-owned Japanese brewery named Tedorigawa. Interestingly, sake as a production process isn't that well documented, so filmmaker Erik Shirai has took it upon himself to document this intimate environment, and show the craft and skill needed to produce such a product. Although a simple clear liquid to most, the incredibly complex process means workers live together under the same roof for 6 straight months, in Tedorigawa for example the workforce is mostly made up of migrant farmers who grow rice in the summer and brew sake in the winter.
You may be asking, "what's so special about Tedorigawa?" Well, they specialise in brewing Daiginjo (the highest grade of saké), which has a particularly labor intensive process. Workers wake up every morning at 4:00am and have a collaborative attitude, using their hands like any other craftsman or maker whilst working as a team. What's most appealing about this film in my eyes is the spirit of the workers and the different types of personalities that arise. You don't see this in the trailer per-se, but if you head over to Erik Shirai's Vimeo page you can find other excerpts that give us a glimpse in to the lives of the individuals. I'm definitely a supporter of this and can't wait to watch the full documentary in the future, you can keep up to date with their progress via The Birth of Sake Facebook page.