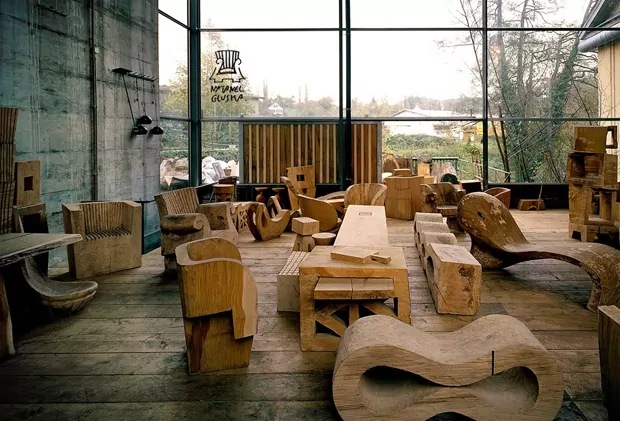 The Long 8 Chair by Natanel Gluska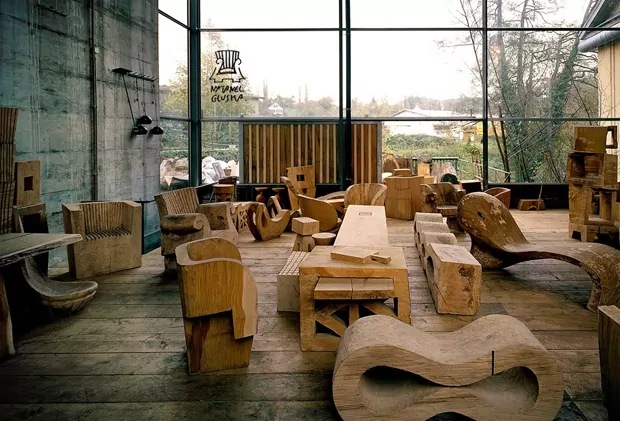 This project was somewhat of a surprise for me this morning in that I was expecting one style of furniture and in the end I found myself admiring something completely different. Initially I stumbled across Natanel Gluska's freeform chair constructed out of fibreglass, which reminded me a lot of some of the chairs that were being designed in the mid-century modern era. However, delving a little deeper into the project I found myself taken aback by the talent Natanel has with a chainsaw in his hand, so I've brought across this film which highlights the multi disciplined artist creating the first Long 8 chair prototype out of one piece of wood.
As I'm sure you've noted from the image above Natanel has really mastered the art of wooden furniture and has established himself as quite the acclaimed designer internationally. Orginating from Israel, Natanel now spends the majority of his time living and working in Zurich since graduating from the Rietveld Acadey, Amsterdam in 1989. The film we're highlighting below today runs us through the entire process that helped form the Long 8 Chair, beginning with a rather large tree trunk that the artist soon cuts down to size.
His work actually reminds me of another artist we've featured here in the past Denis Milovanov, however his pieces were only in the form of photographs so today's project is a real treat in my eyes. I found both the craftsmanship and vision of Natanel really breathtaking throughout the film, and although this isn't of the highest quality in terms of video production I don't think this matters too much – his craft more than makes up for the shortcomings here.
I couldn't seem to find a stockist for Natanel's work on his website, in fact it looks like the image above is a showroom of his. If you're looking to purchase one of his creations I think your best bet is to visit his webpage which I will link to below and speak directly with the designer himself through email. I've intentionally not placed any further photos of his work here so you've all got something to admire when you make the click across, but in the meantime watch on and enjoy!