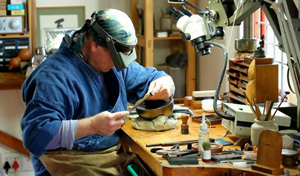 Utsushi – The Search for Katsuhira's Tiger
To say I had my mind blown by a short documentary this weekend would be an understatement. I woke up early and this inspiring piece fell right in to my lap, I'm so glad I gave it a chance and watched it all the way through. I've been thinking about it most of the day, so hopefully you'll feel the same way as me and you'll admire the skill and craftsmanship in this 20-odd minute film.
The piece follows Japanese metal and Tosogu artist Ford Hallam as he recreates a lost masterpiece by the 19th century Mito tsuba artist, Hagia Katsuhira. Interestingly, Ford holds quite a unique position in the world of fine art metalwork. He's the only non-native artist to have been adopted into Japan's ancient decorative metalworking tradition, having dedicated himself to the mastery of its techniques and materials. You'll get quite a nice insight into his knowledge in this film, as Ford discusses various Japanese wordings and phrases, also you'll get a breathtaking look at his skill set in terms of the metalworking.
Hallam started a classical apprenticeship under German master goldsmith, Uwe Kotter, for five years, passing his trade test to become a fully qualified goldsmith. Whilst training he started trying to create tsuba but soon realised that he would need to travel to Japan to find the real craft. After many years of hard work, studying in Japan with various craftsman to gain knowledge in the field, he finally arrived at a point where he could make these traditional works from scratch. Saying that, he's always learning and you'll see there's parts in this specific project where he feels like he's bitten off more than he can chew. I can't imagine how hard it must have been breaking down the barriers in this 'secretive' art, especially since Japanese is his second language.
Although on Vimeo this has a casual amount of views, it turns out they're a lot higher on Youtube, which is great to see as I love that more people are fascinated by this sort of thing. Appreciating the handiwork and the talent that goes with it, lets just hope there are some younger people like myself taking note. So I urge you to watch on below and enjoy Ford Hallam trying to replicate this ancient piece of art, you won't be disappointed at all.