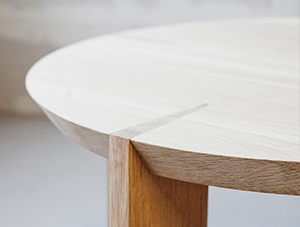 Kil & Oki – Oak Tables and Chairs by Furniture Designer Stine Aas
Prototypes are always exciting for me to view. From a creatives viewpoint it's easy to understand the effort a designer applies to a project even before a prototype has come to fruition. For someone like myself it might be easier to appreciate and get inspired from this feat alone, so I feel the need to highlight these young works and showcase some of the youthful creativity floating around in the design field at the moment.
These new prototypes by Norwegian designer gained my attention partly for this reason, but also because of the simplicity in the design and the small elements that she's used to make them stand out from other pieces of furniture currently being produced. Stine Aas is a young furniture designer based in Bergen, Norway. Her focus is working with furniture and products that combine character with simplicity, especially inspired by works that people revolve around and use on a daily basis.
The table and chair that I picked out are from her newest collections titled Oki and Kil. They are simple but have unique details and quirks that really drew me in. Kil is a simple coffee table made from soaked oak, and the Oki chair is a small chair also produced from oak that has a separate version with a black lacquer finish. The table is particularly special as the legs are actually wedged in to the tabletop, which makes it quite different visually as the legs jut from the top plane. Overall I think Stine Aas is a fantastic designer and it's great to see her look back at the traditional aspects of furniture design, but at the same time use new and innovative ways of propelling this medium forward.
stine-aas-qzjb.squarespace.com
johanneka.com