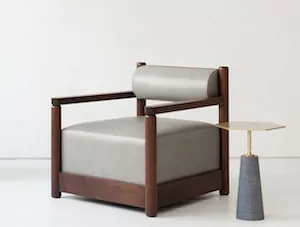 Local Craftsmanship – Modern Handcrafted Furniture by Egg Collective
Community collaboration is definitely something that I aspire to pursue in the future. When you're younger I think it's quite hard to participate in such activities, as you think your voice might not be listened to. So it's great to come across those who are working closely with makers in their local community or in a different country in a collaborative way. That's partly why I was inspired by this work by New York City based design company Egg Collective.
Established in 2011 by three female designers, Stephanie Beamer, Crystal Ellis, and Hillary Petrie. All of them have backgrounds in architecture, art and woodworking, and the company itself creates beautifully engineered furniture and lighting. All of the pieces are made at their own woodworking shop, and they try to collaborate with a community of small-scale fabricators to see their ideas come to fruition.
This commitment to supporting high quality, local craftsmanship is great to see. Not only that, but the designs are very refined and modern. It's also nice to see some of their character coming through in the form of the fabric on the seat or the sculptural design in the legs. All of which is really great additions. Here's a selection of work from their portfolio, more can be found on their website linked below.