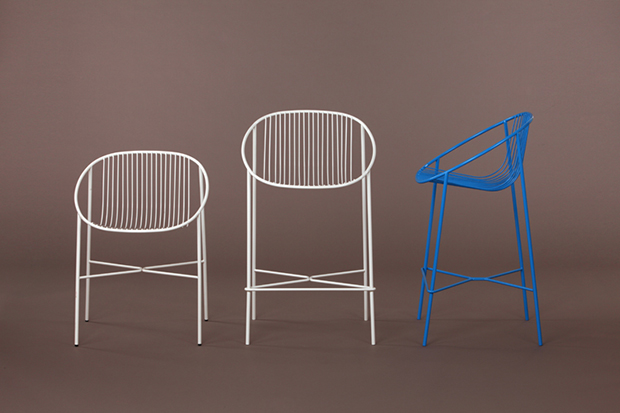 Simple Furniture Solutions by Gautier Pelegrin
Next week will be my first furniture making experience, I'll be working with a local craftsman to make a piece of furniture from scratch. I'm actually pretty excited! Some of you might see this as something quite minor, but for me it's the first step towards making some of my paper drawn furniture ideas in to real world objects. I know once I have the knowledge and some hand skills I'll be able to work up some of my own prototypes whenever I please, that's a fantastic weapon to have in my arsenal. As you can imagine my inspiration will also have to step up when I do start making, first up on that front are these simple furniture solutions by French multidisciplinary designer Gautier Pelegrin.
Although Gautier's works are made using a variety of materials, not just wood like what I'll be using at first, it shows that he's very versatile and isn't just one dimensional in his portfolio. Gautier specialises in art direction for architecture and furniture working in London, so he's got a great sense of space and knows what sort of furniture fits in modern architectural environments. I find this aspect of furniture design most interesting actually, the fact that a lot of furniture is made exclusively for the space that an architect has designed. It's a custom piece in that sense, only later (or something straight away) does it become a real design classic. The post I put up last week featuring Arne Jacobsen's SAS House has a similar story, the chairs all around the location were made for the different spaces that he dreamed up, but they ended up being produced on a more mass-produced scale at a later date. I'm hoping one day I'll be able to produce some designs like this in the future, but for now I can stand back and admire these great forms.
I have a few favourites, the Yuan chair for example (seen above) was an exercise to create a physical and cultural bridge between two famous chairs, the Hans Wegner Wishbone Chair and the Traditional Chinese Horseshoe-back chair from the 17th-18th century. Interestingly they used layered strips of bamboo to create such a piece, leading to quite an innovative piece of design. I'm sure I could whittle on about the different piece one by one, but go and check them out for yourself on the Gautier Pelegrin website below.