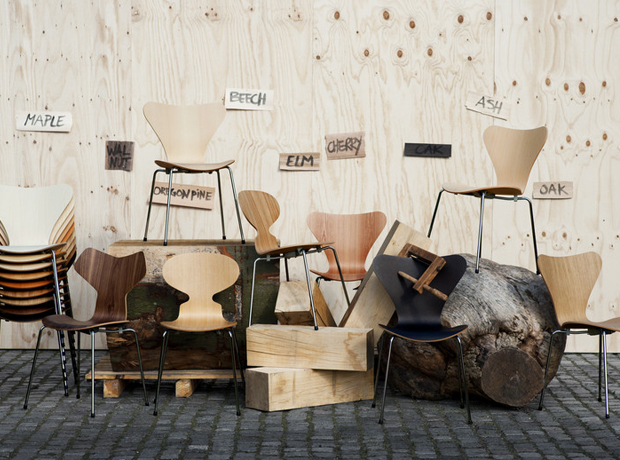 The Making of the Series 7 Designed by Arne Jacobsen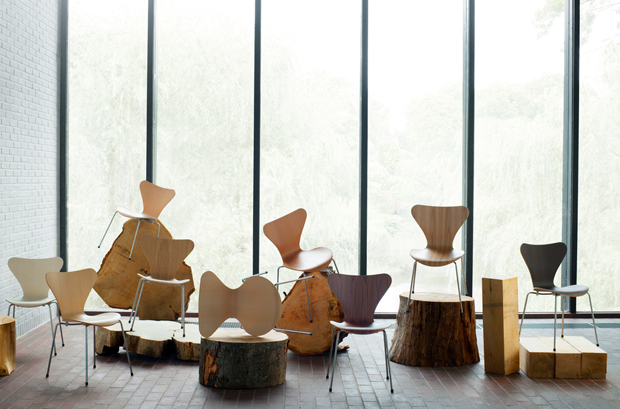 This video is extremely old but I was blown away when watching it this morning and it sort of led me onto researching a bit more into Arne Jacobsen and his works, particularly the Syveren (Seven) series chair. This pressure moulded veneer chair seen here is apparently one of the most sold chairs in furniture history and is a further development of the famous Ant chair which was designed by Arne in 1952.
It all began before World War II when Jacobsen worked with woodworkers and upholsters to produce a variety of seating. After 1950 a lot of new technologies came into place thanks to pioneers at the time, this meant new industrial processes such as bending and laminating which meant designers could come up with radical "flowing" forms.
The Seven chair itself was useful in a variety of ways since it could have arm rests, a swivel base with wheels and a fixed pedestal for lecture halls, it was the "one stop shop" and catered for a variety of needs in an array of scenarios. Over the years it was stripped back so that the wood elements were simplified into one single form and the metal elements were reduced down to their minimum dimensions, this was and still is a no fuss chair at it's optimum height, weight, and size.
This film that I have placed below showcases the production and making of the chair by Fritz Hansen. Hopefully you will also enjoy the imagery that coincides with it that features some of the pieces in their natural environment and also behind the scenes at the workshop where the original Seven and Ant chairs were in production at the Fritz Hansen furniture factory. The black and white ones date all the way back to 1957.
www.arne-jacobsen.com
www.fritzhansen.com