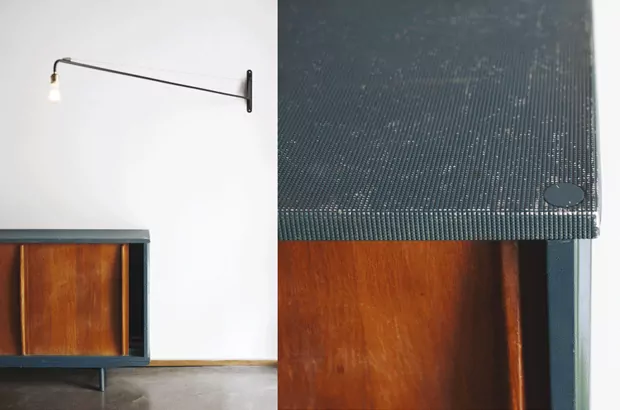 Views of the Jean Prouvé Exhibition at Jousse Entreprise
Our good friends at WO AND WÉ, a site that I've admired for quite a while now, put me onto this Jean Prouvé exhibiton that started last month at Jousse Entreprise, a gallery in Paris that showcases a range of well-known designers like Le Corbusier, Serge Mouille, and Alexandre Noll. Most of which we've covered here in the past.
I'm not one for copying over content and we prefer to find something new and original, but this delicious photography snapped by Adrien Dirand for the gallery is very mouth-watering indeed, I just couldn't resist. He also has a selection of enticing photos on his personal website if you're photographically inclined, Adrien seems to hold quite a unique style when it comes to his photography which I can only describe as 'architectural'.
As you can imagine this suits the style of Jean Prouvé and his furniture perfectly with his sharp forms and structured shapes, all of his furniture is a combination of these elements which makes him admired within the design scene. That may be why his pieces are always featured in a lot of build shots taken by architecture firms, they're probably rented out or from their own collection, either way they're all very beautiful and are at the top of my list when it comes to basic forms and simplicity.
It's not the first time that we're exploring his works so if you've got any spare time I'd recommend a browse of our archive to educate yourself a little. Even better, if you're in Paris you can visit Jousse gallery itself which will be running this specific exhibition until the 27th of October, 2012, so you've got a week to drop in. You can find out more on the link below. Have a good weekend!
www.jousse-entreprise.com
www.adriendirand.com