About Markus Uran
Markus Uran is a designer and maker from Toronto, Canada. He started Metsa to encapsulate his interests and make clothing that reflected his lifestyle.
The name Metsa comes from the Estonian phrase "minu väike metsa maja", which means "my little house in the forest." Every item represents their belief that a piece's value comes from its narrative; how it was made, who created it, why, and how it is worn.
Interview date: December 22nd, 2011
Introduction
As our regular readers already know, we love to gain knowledge on how something is made and also the story of the individual behind it. Sharing Metsa on the blog back in November was a great pleasure, Markus Uran's brand is embodied in such a great concept and it made sense for us to return to him for an interview.
Markus is very meticulous in his work and tries to keep the process of making clothing as natural and handworked as it possibly can be. He is literally involved in every aspect of each individual garment and strives to experiment, thus creating clothing that will not only last but will also be loved by every owner for it's individual details.
We hope you're inspired reading through this and it will add some food for thought in terms of the design process and how you can approach it yourself. Enjoy!
1. Starting out, what was your original ambition for Metsa?
I began developing items that would become "Metsa" while still at The Ontario Collage of Art & Design studying graphic design. It was the perfect avenue for me to be able to use what I had learned as a graphic designer and also be able to make 3D, tactile objects.
2. Could you talk about the phrase "my little house in the forest" and how it relates to you and the brand?
When I was really young, my grandfather and I built a tree fort at our family cottage and he and I made a sign that read "minu väike metsa maja". When it was time to develop a name for the brand I wanted something that I would never get tired of hearing or that might eventually sound dated. Metsa is the only word in that phrase that can be phonetically said in both Estonian and English. As the brand evolves the biggest inspiration to me has been that cottage and the Scandinavian aesthetic of how it was built – clean lines, designed to last a long time, but not too serious. So the house in the forest has really become a guide for the brand's direction.
3. Along with the popularity of Inventory magazine we've seen some fantastic Canadian stores open up, Old Faithful and Neighbour in Vancouver are prime examples. Do you think this emergence of a fresh Canadian scene has impacted the perception of how Metsa is viewed outside of Canada?
Inventory I think is doing a lot for everyone. They seem to be setting a standard and educating people that things should be beautiful and well considered. Old Faithful too, their branding is so tight. I really feel this affection and consideration for design and process helps everyone.
4. I've read in the past that you created and sold your first collection before graduating, this sounds like a really defining moment for you and the brand. How do you think things would have turned out if you hadn't been able to reach the market that you wanted from the very beginning?
I would like to think that I would have just kept going. I have always been making things in my spare time – it is big part of who I am – I like to work, solve problems, and all the challenges that come along the way. I was recently asked when I started getting into design and without really thinking, I answered that I've always been doing it. Selling the collection early on was just confirmation that I wasn't in it for nothing.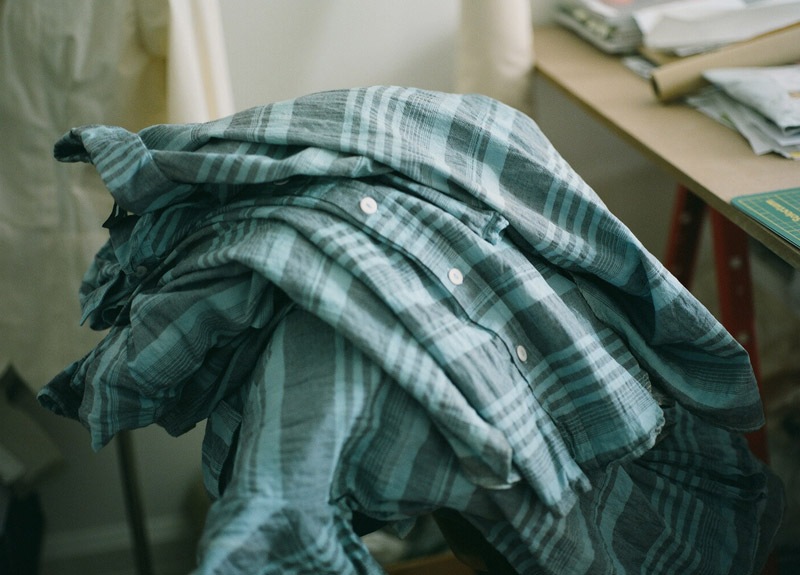 5. What's your favourite thing about Toronto? If we had one day in Toronto, where should we eat and what should we do?
To shop don't even look further than Mjolk. It's one of my favourite shops. They sell beautiful Scandinavian and Japanese home items – furniture, glasses, utensils, pots … everything in there I want. For men's clothes, Nomad is still my favourite shop to go to.
In the summer, we go to the Toronto Island a lot, bring a picnic and bike around. For lunch, I would definitely suggest picking up a sandwich at The Black Camel. It's kind of situated in no man's land but well worth it. I bike there at least once a week and then talk about the sandwich until the next time I go. For dinner, we usually end up at "Mother Dumplings" in Chinatown or my friend's place "Bar Volo" which has amazing beer. Pizza Libretto has long lines but is worth it.
6. What for you really defines Metsa as a brand and why do you feel your customer opts to buy the products you make?
My attention to detail, proportions and process. I really enjoy working out the details, making sure things are in the right position and the right size. Because we're so small, we experiment a lot. Thinking of buttons lead us to make porcelain buttons. Wanting to make my own colours and to be more hand's on led to experiments with natural dyes. These are traditional crafts. I love the idea of taking traditional or folk techniques and making them relevant today, assigning them a more modern meaning.
7. It's remarkable to sit and read all the intricate little processes that your garments go through, especially given the experimental nature of it all. For example using pomegranate to hand dye, you must have tried and tested lots of different techniques, are you always striving to find an alternative to traditional creative processes?
Yes, I love going to the library and talking to other crafts people about their experiences. I have a box now in my studio full of scrapped colours and new ones on the go all the time. Sometimes I'll make something that I love, but can't replicate it which is really frustrating. The best resource for me has been talking to people who have been working in this area for a long time.
8. It looks like you come from quite a creative background, for example your mother owns a pottery studio. Do you think this has influenced your work in any way?
Definitely, I was always encouraged to make things growing up. I hung around the studio when she was making things and she would set me up with some clay too. I also have memories of watching Fashion Television at my Dad's while playing with Lego. I think when I was growing up I really tried to push myself away from the simple Scandinavian design I grew up with, but it kept creeping into my designs and now it is such a huge part of what we do.
9. In my eyes Metsa represents design and is very much based on the product itself rather than hype or popularity. You're basically seeking out something in yourself and finding a path creatively, it's really inspiring and great to see. What would you say to other individuals who wanted to get into some sort of craft, ie those who would like to produce something of their own?
To just to do it, always try things. You just have to start making things and know that everyone messes up and not everything works out the way you want it to. Since I have been able to do Metsa full time, I've come to love it so much more. I'm at the point where I can't imagine doing anything else.
10. You've got quite a compact list of stockists which are all very much in tune with your ethos. Was this your intention and how do you wish to expand in the future?
Yes, because I am a new brand, I think it's really important to be in spaces that will help define Metsa to a buyer who has never heard of us before. We still do a lot of sales through our studio as well, which is great because it allows people to connect with the process as well.
11. What's the next step for Metsa, do you have any upcoming projects that you can talk about?
I will be participating in Made by Project this January 16th, 17th and 18th in New York. I am really excited to be invited to that. I will be dying pieces, including some things that will be exclusive to the show while I'm there and I'm really looking forward to meeting the other people who will be working at the space.