About Atsushi Ogata
Atsushi Ogata is a Japanese potter based in Nara prefecture. Many craftsmen reside here thanks to the beautiful countryside and close proximity to cities such as Osaka and Kyoto.
Ogata took to pottery later on in his career, studying under a master in the famous pottery city of Seto. Originally focusing on decorative techniques and colourful glazes, Ogata's ceramics have slowly evolved in to more rustic tableware that dares to show the natural beauty in the clay residing beneath.
His process starts on the wheel and later turns to a wood firing that lasts a few days. To diversify his glazing he also experiments with gas firing and digs his own clay nearby to produce beautiful, natural-looking surfaces on the body of his pots.
Photography: Mark Robinson
Introduction
As the trees and mountainous landscape flew by travelling on the early morning train from Osaka to Nara it made me contemplate the lifestyle that many makers have living out in these rural areas. This yearning to be in nature and the relationship needed with your surroundings to craft work that encapsulates this atmosphere. We all know that these materials derive from the earth's soil, so close contact to the source is of course paramount but I also sense a spiritual element that's difficult to put in to words.
Atsushi Ogata is a potter who has surely experienced both sides. Born and raised in Tokyo, spending his early years working in the rather cutthroat comic book industry, Atsushi took the leap to become a potter in his late 30's after disillusionment and discontent with that lifestyle. Off he went to Seto, studying under a master potter in the area and a few years later relocating the remote area of Haibara in Nara to set up his own studio and kiln.
Here he now resides in two traditional Japanese homes that have been converted. In the adjacent house resides Ogata's apprentice, carefully cutting clay by hand before forming the edges of a slab to create plates of various sizes. Follow upstairs in to a small gallery and then outside and up the hill to where his wood kiln sits peacefully waiting to be filled with new work and fired.
Ogata's work has changed quite dramatically from the Seto style of using bright colours to a more refined, contemporary aesthetic that brings out the best in the clay dug right next to his studio. Whites and reds adorn his work, tending to work around this monotone colour palette to not overpower the dinner table and produce functional works that are timeless and can be used with care and love for many years to come.
Walking around and talking to Atsushi he shared some of his thoughts regarding his old lifestyle in Tokyo and how much it has changed over the years. For me there's also something interesting about the link between the aesthetic of the objects that he crafts and the lifestyle that goes with it. It's almost as if Atsushi is channeling this simplicity through his work in order to bring it back in to his own lifestyle.
I left with my own yearning for nature and simplicity. Being so close to the city comes with convenience but at what point does the overload hinder our ability to enjoy and prosper spiritually? Maybe we can bring a little of this nature back in to our own homes thanks to Atsushi's ceramics that channel simplicity in rusticity and letting things "be".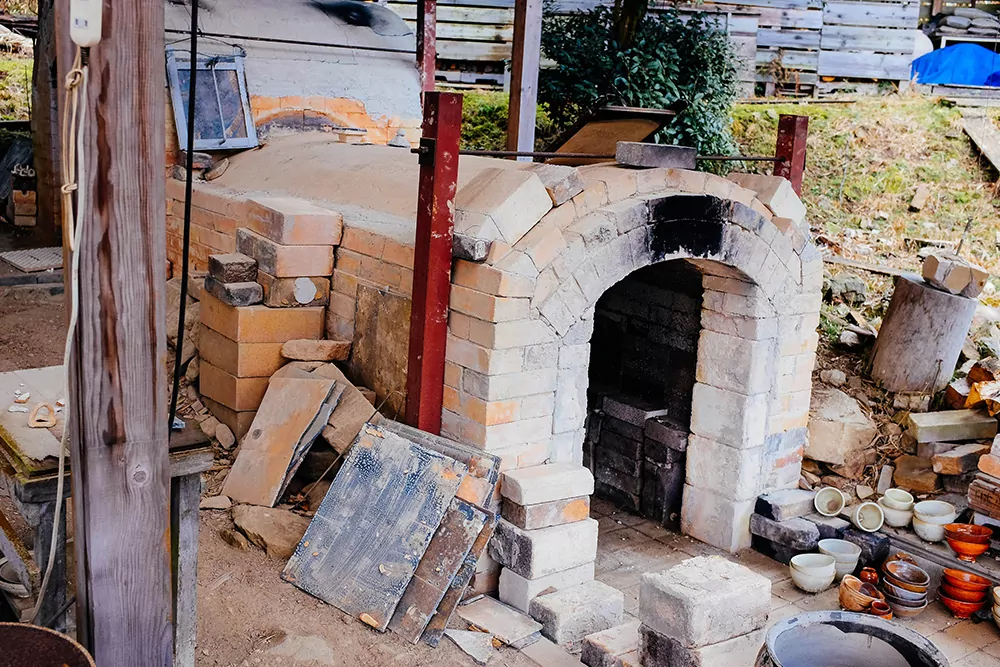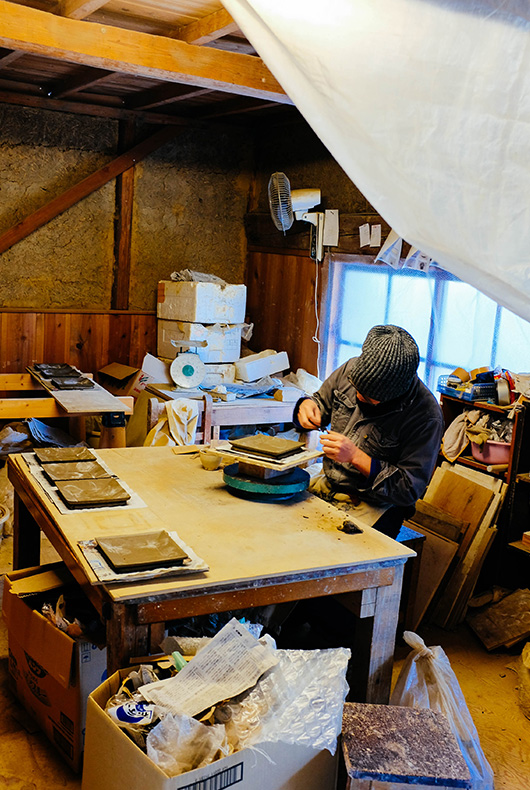 Click here to shop pottery by Japanese potter Atsushi Ogata ⟶