About Yusuke Tazawa
Revolving around nature most of his life, Japanese maker Yusuke Tazawa decided to convey the importance of the forest through his woodworking skills.
Yusuke produces wooden utensils, plates, vessels and furniture at his studio Think!Forest in Ebina, Kanagawa Prefecture.
When designing these goods he looks to source inspiration from old culture and tools in Japan.
Photography: Tatsuji Nagase
Introduction
Since a child Yusuke Tazawa has always been inspired by crafts and craftsmanship in general, so as a student he decided to specialise in forest science and engineering. After working in conservation for a number of years he wanted to convey the importance of the woodland through his woodworking skills. His workshop currently resides in Ebina, Kanagawa Prefecture where he makes a selection of furniture, trays, vessels and cutlery from a variety of woods.
His skill not only lies in his unique ability to manipulate wood in an accurate way, he also brings out the beauty and character in the wood using simple hand tools and natural surface treatments, such as oils and urushi (aka lacquer). Yusuke's keen eye for form really does set him apart and the design of all his works are contemporary with a traditional twist. He even leaves small chisel marks on the surface to highlight the touch of the maker and to honour the materials origin.
We hope that these photographs taken inside of Yusuke's studio offer a glimpse at his processes, highlighting the production methods that he uses to make these unique objects. You can view our short Q&A with Yusuke at the bottom of the page, we also sell the Cherry and Walnut Coffee Scoop as seen being made here in the shop, enjoy.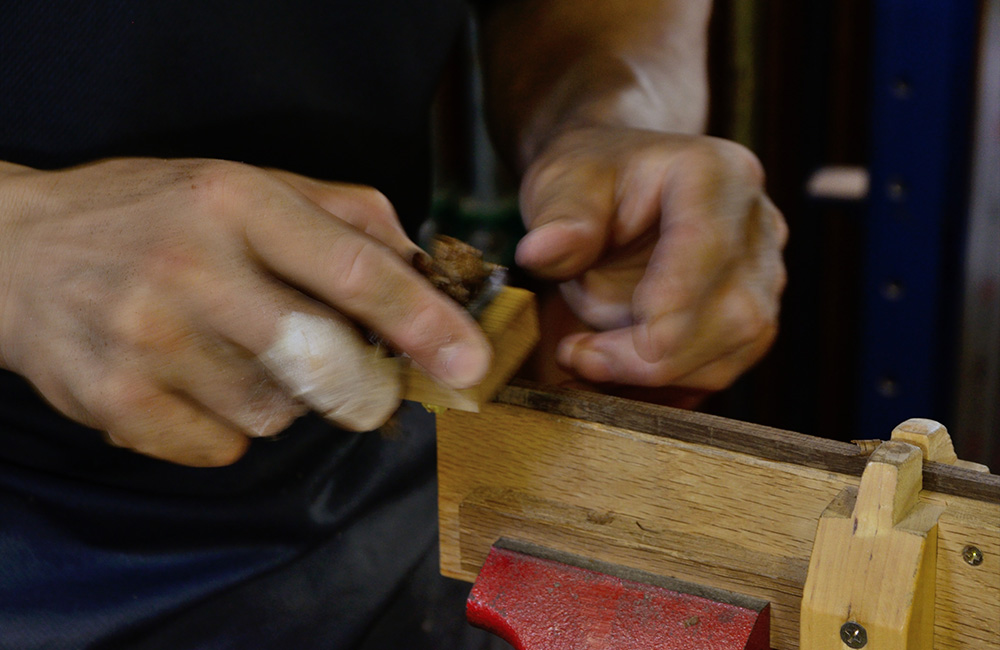 1. When did you decide to turn craft in to a career?
My old job was rewarding as a career but I did feel its limitations. I wanted to convey the importance of the forest and nature, however I only worked on the development side of things. So I decided to achieve my objective using a different approach, turning to handicraft.
I also thought my old job was too physically demanding. Between April and November it required a lot of walking in the fields, also suburban areas and woodland. So it was hard on my body and I wanted to pursue something for the long haul.
2. Why do you believe there is value in an object that has been made by hand? We know you use classic woodworking techniques, why does this slow method appeal to you?
When I craft wood I use a mixture of machinery and hand techniques. I think the handcraft is primarily important when finishing. Unlike a man-made material the wood is not uniform, but with this it brings a lot of character and charm. To bring out this charm in the wood handcraft is better suited, if machine processed it will certainly lose this aspect. It's important to bring out the charm using a slow method rather than a fast.
3. When designing your goods, you often source inspiration from Japanese culture such as the tea ceremony. Why does the tea ceremony inspire you?
Not only am I inspired by the tea ceremony (Chanoyu), I'm also inspired by traditional Japanese architecture (farm houses and old style tea houses). But I think it's true that I do take some influence from Chanoyu. In my eyes Chanoyu is a condensed form of Japanese culture, the tools in the ceremony for drinking and making tea, but also the food utensils they use at the temple, gardening, architecture, flowers and other elements. It's stripped back and simple.
4. Your philosophy is "simple design, quiet form", could you explain to us what you mean exactly by this?
In terms of "simple design", I don't think there's any need for design to be talkative.
However, I think that fewer lines and less compositional elements in the design does not always mean simple. "Simple" might mean to make the most of the texture in the wood. It is difficult to express simple in words alone, but it may be something more metaphysical …
"Quiet form" relates to the furniture I want to make. You do not notice the pieces immediately, but look around and you'll find them standing firmly and quietly.
5. What does a typical day look like for you at your workshop Think Forest! in Ebina, Kanagawa Prefecture?
It varies from day to day. Some days I work on the lathe turning wood, others you'll find me painting with urushi. I make sure I sharpen a knife at least once a day. Sometimes it's a chisel, other days it might be a plane or a graving chisel. I think this is very important.
I live in Yokohama, it takes about one hour by car from Ebina. Yokohama is a suburban area, one day I'd like to live in the country side to feel at one with nature. Then I can take a stroll in the woods every day …
6. Have you had any mentors or inspiration along the way?
My work is very inferior, but I have a lot of respect for them:
James Krenov – I knew him when I was a university student but I had not known how famous a cabinet maker he was. I've tried reading his book "A Cabinetmaker's Notebook" when I was a student at TAKUMIJYUKU, but the book was all in English so I had a hard time translating it. However, the Japanese translation of the book came out a few years ago so I began to understand his way of thinking. I have great respect for his attitude towards woodworking.
Nishioka Tsunekazu, he was Miyadaiku (specialising in temple and shrine carpentry). Nishioka, known as "the last temple carpenter," handled the major Showa-era repairs of Horyuji temple, and in 1990 was at the scene of the reconstruction work for Yakushi temple. I read a book about him when I was a high school student, it was this opportunity that made me decide to follow the path of the forest and woodworking.
I also like George Nakashima. Although I'm not as fond of his furniture that uses lumber with a natural edge, I've been influenced by his furniture that combines the technique and sense of Japan with the West.
Osamu Shoji, the master of TAKUMIJUKU. I learned the attitude and practical techniques of woodworking from him. Notes from his lectures are still very precious to me. Also Mr. Inoue, the owner of the carpenter's tool shop in Tokyo that I get my carpentry tools from. I learnt from him not only in the way of caring for tools, but also the attitude for handcraft. If I hadn't had come across him I might not have the style of crafting that I do now.
7. What kind of legacy do you hope to leave?

I would like to contribute to woodworking as a whole, also preserve nature and the forest, which is the backbone of Japanese wood culture. As well as that, I'd like to pass on classic woodworking techniques to the next generation.
8. What advice do you have to other individuals that want to get in to woodworking, or any other craft for that matter?
Don't forget that whatever's made out of wood has the presence of the forest. It's not from a sawmill, even wood sawn up has come from the forest if you trace its origin. Also, do not forget that it is significant to craft by one's hand, no matter how machines and techniques develop in the future.