SHOBU-FUKU by Tenmyouya Hisashi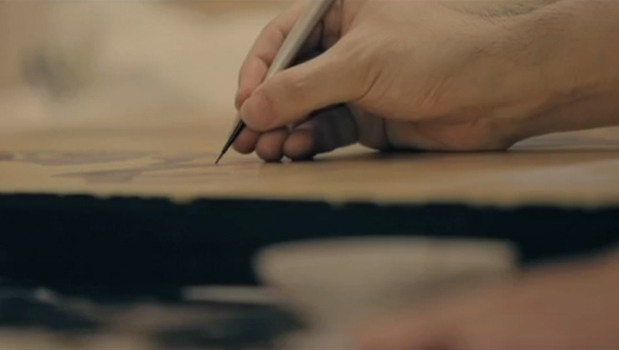 I found another piece by Alfred Dunhill for his Day 8 series featuring Tenmyouya Hisashi, a Japanese artist. After working as an art director at a record company, Tenmyouya now makes his living through art and has been noticed especially for his signature "Neo-Nihonga" style of painting. "Neo-Nihonga" literally means "New Japanese-style", taking its name from the "Nihonga" style which was popularised in the 17th and 18th centuries. Tenmyouya likes to take thematic and technical approaches from traditional Japanese painting and revive them for the present day.
Not only did I find this approach extremely exciting I was also interested in his unique views on art and how it's very linked to design itself. As both of us here are more focused on design, sometimes it's hard to see the attraction towards art when it has no boundaries of restrictions. But he talks about all greats works of art following an order or structure, it's art but with design principles. It's something that I think is very relevant and also shows that even artists are not free from the rules of their own minds.
This specific piece of art has been commissioned by Dunhill to celebrate the 11th season of the partnership with the Japanese Football Association. The proceeds of 1000 limited edition prints will go to People's Hope Japan. Watch on below as Tenmyouya Hisashi explains his upbringing and how he got into this line of work.