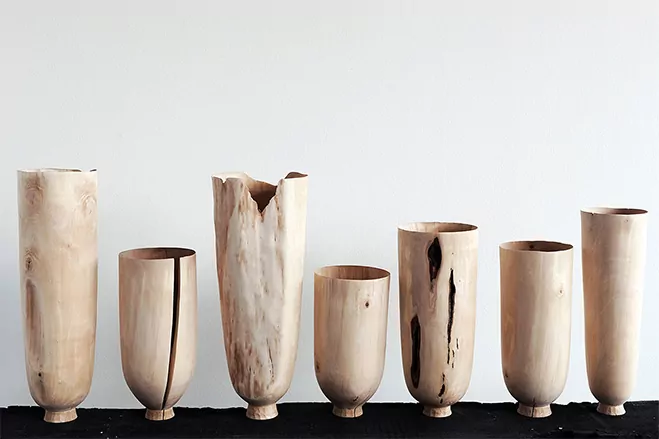 Forest + Found – Woodwork & Textiles by Max Bainbridge and Abigail Booth
The most interesting area of exploration for me at the moment sits between functional and non-functional works of art. I know it's a little abstract and not very concise in description, but this wide area, which seems quite narrow at first sight, is something that really intrigues me, always reconsidering the purpose of things.
This work by London-based artists Max Bainbridge and Abigail Booth, who work collaboratively under their studio practice Forest + Found, really captured my attention with their work. I first came across their studio this year thanks to an installation exhibited during London Craft Week. This grouping of work revolved around many of the ideas that they have already explored in the past, using wood, as well as natural pigments and textiles, to produce sculptural and wall based works that are inspired by architectural structures, ancient landscapes and cultural objects.
I have to say straight away that Max Bainbridge has an exceptional eye for form. These wooden vessels are made using woodturning techniques and simple hand tools, but the forms are aesthetically pleasing on the eye, with the foot sitting low and bowl either veering up steeply or outward in a dramatic fashion. In a way they almost defy gravity, which is not easy to achieve. Below is a film for Pitt Rivers Museum in Oxford, I recommend watching it as it offers an unusual entry in to their work and the connection they have with the natural landscape. On their website you can find out much more and click through their work, I'm sure it will be very inspiring for all of you. Enjoy.