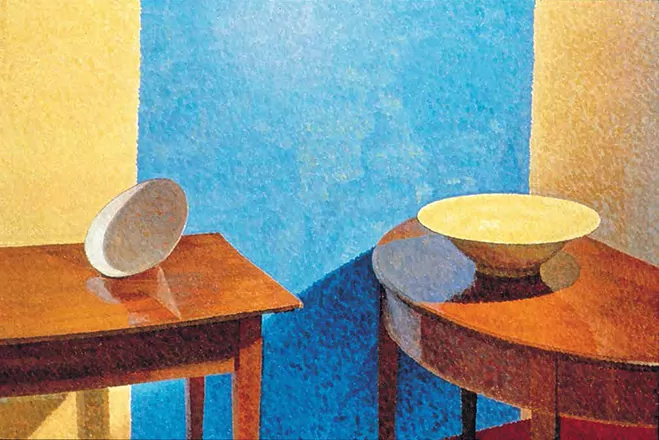 Still Life Paintings of Ceramics by British Artist William Wilkins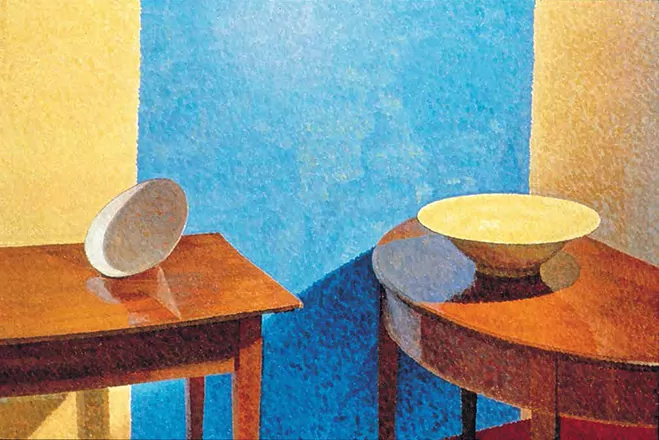 Still Life Two Tables, 1986, oil on canvas, 71 x 101cm
I've mentioned many times in the past about placing all the different creative subjects under one umbrella. I recently acquired a complete book on the Bauhaus and this is a common theme running throughout. They discuss the different departments such as architecture, metal work, ceramics and how they were under one heading, none better than the other or more important. Painting plays a particular role in the philosophy as many famous abstract artists taught at the Bauhaus, from Wassily Kandinsky to Oskar Schlemmer and Josef Albers, they all had a part in inspiring future generations.
As we progress those that have experimented with such methods try to push it to a new level, for example here with British painter William Wilkins. His early paintings were mainly abstract, but he later developed a pointillist technique and decided to concentrate entirely on work of a personal scale. Now he does no preliminary drawing or underpainting and tends to shy away from layering paint on the canvas. These works here that I'm presenting from his portfolio are still life paintings of ceramics, from pots by Lucie Rie to the work of well-known Japanese potter Yasuhisa Kohyama. They are simple in technique and subject, but very effective and captivating.
When I heard about Erskine, Hall & Coe's upcoming exhibition opening December 2nd, 2014 it made perfect sense to combine the two in this post today. They will be hosting a selection of paintings by William Wilkins which will be accompanied by a range of ceramics by Lucie Rie herself, Yasuhisa Kohyama and George Ohr. This show celebrates the launch of the 'William Wilkins' book featuring over 100 colour illustrations. Overall a great idea to exhibit these two different mediums as one and offer a look at ceramics and art combined. If you're in the vicinity I'd definitely recommend popping by, more still life paintings of ceramics by William Wilkins can be seen and admired below.

Still Life, Lucie Rie Bowl, 2013, oil on canvas, 60 x 76cm

Still Life, Scythe and Bowl, 1980, oil on canvas, 25 x 35cm

Still Life, Pink Wall, 1980's, oil on canvas, 64.8 x 111.7cm

Still Life, Koyama Vessels, 2014, oil on canvas, 27 x 36cm

Still Life, Glass Shelf , 2010, oil on canvas, 31 x 41cm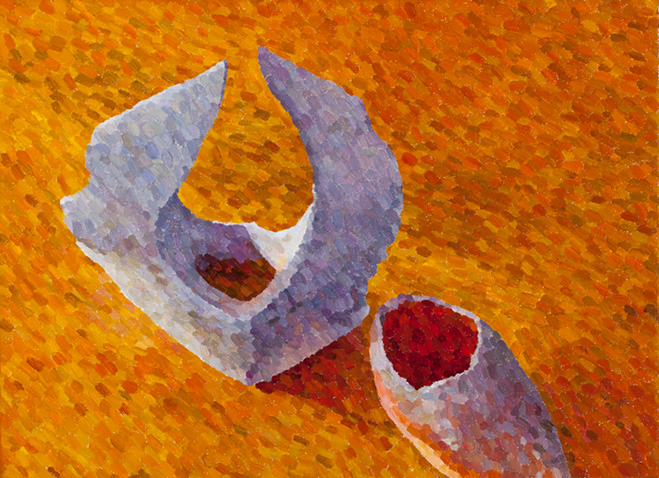 Still Life, Koyama Vessels, 2014, oil on canvas, 33.6 x 46cm

Still Life, Three Lucie Rie Bowls, 1985, oil on canvas, 94 x 126cm