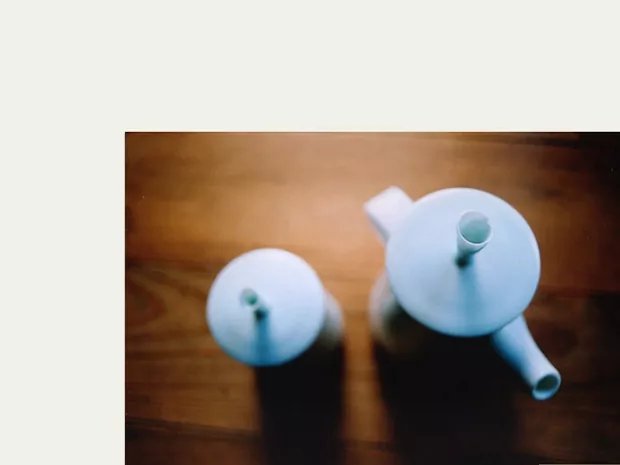 Ceramics at Utsuwa Gallery
I've got some wonderful imagery to share with you all today, I actually found this website over the weekend and I spent quite a long time just browsing through the different photographs. In fact I couldn't find too much out about the company itself but I've tried my best to conjure up some information, it wasn't an easy job let me tell you.
Utsuwa Gallery is one part of Ankaju, there are three sections to the company altogether, one is the Anzai Fruit Tree Garden, a quaint grocery store, the other is Cafe in Cave, a small place to have tea and snacks, and then the Utsuwa Gallery which we'll be talking about today. I think this is an interesting facet about a lot of Japanese businesses, they always seem to be seperated into a variety of parts, take for example our friends over at Truck Furniture. Run by Tok they have a showroom to showcase their furniture, a workshop where you can go and see the pieces being made, and then a separate cafe/restaurant called BIRD cafe that serves food and drinks. It's a great idea and furthers the concept and idea of a lifestyle brand, where you can chill and relax whilst taking in all the different senses, plus it's a pretty smart business concept.
So as you can imagine I was enticed by the different areas that they've covered under one umbrella, this then led me onto the gallery itself. When I hit this webpage I was instantly struck by the amazing photography, not only the light and tones but also the quirky ceramics featured in the shop and all the textures that they have on their exterior. It's not often that you see such a variety of pieces and it's definitely not anything that we come across in the UK on a regular basis, in fact I can't recall a time when I have. Japan's handicrafts never dissapoint and I always find myself veering that way for inspiration these days.
Once you've had a scan through the imagery here I'd highly recommend clicking the link that I've left below to head across to their website. You'll find lots more ceramics and also other objects from the shop such as wicker baskets, metal spoons and cutlery, also some wooden pieces, something is sure to grab your attention. You can flick through the Cafe in Cave photography as well as it's fantastic seeing all the customers drinking and eating, it looks very hustle and bustle. A great little business!