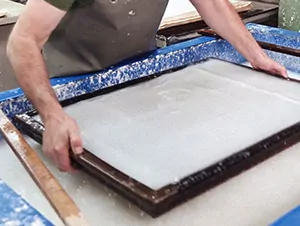 The Papermaker – A Short Film on German Craftsman Gangolf Ulbricht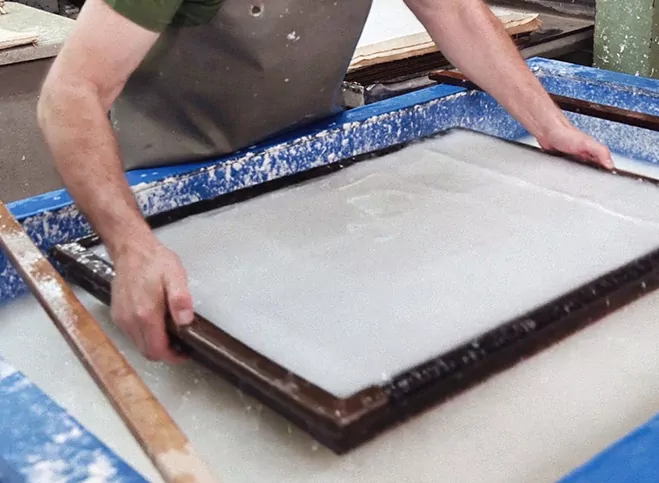 I remember coming across a short film many years back on Rogier Uitenboogaart, a paper maker living in Japan who took up the Japanese craft of 'washi' and had the goal of preserving it, something that he's still doing today. I think this man's calm personality and passion for the subject really triggered my interest in paper making as I don't think I had ever fully appreciated the craft behind it.
When I came across the work of Gangolf Ulbricht and this short documentary by director Daniel Egenolf I knew I had to post it up here for all of you to enjoy. Not only did I find Gangolf as a subject really fascinating, I also enjoyed the way they filmed this and the graininess in many of the shots. It must have taken a long time to cut all the different clips and showcase the close up details of the process behind Gangolf's work, something which I often find lacks in craft videos. This piece had a good balance of information and imagery to along with it.
Although it's a little sad to think that Gangolf Ulbricht is one of the last makers left in Europe producing these handcrafted papers, it's also heartwarming to see his positivity in the fact that people will turn more towards this craft as time moves on. I also mirror many of these thoughts. Photographers, artists and architects tend to gravitate towards Gangolf's work, all of knowledge coming from his home country of Germany, also Japan, France and England where he trained for many years. This video below gives us a glimpse inside his studio in Berlin where he talks about his love for the craft and what will come of it in the future. Click below to watch this man at work, I think it's an exceptional short documentary. Enjoy.