About Kensaku Oshiro
Japanese designer Kensaku Oshiro is currently based in Milan where he designs products and furniture for various companies.
Born in Okinawa, Kensaku studied at the Polytechnic School in Milan and worked at Barber & Osgerby in London.
Awarded with several prizes and known for collaborating with leading international companies in the industrial design arena, his work has a clean, minimalist appearance that mainly focuses on function and ease of use.
Introduction
Did you know Seattle is the seventh-densest city in the world for trees? There are an estimated 4.35 million trees and tree-like shrubs. This means there are 7 trees and tree-like shrubs per person. Talk about a city so close to nature.
In Seattle resides Memo Furniture, a furniture maker focused on design's ability to positively affect the human condition. They worked closely with Milan-based Japanese designer Kensaku Oshiro to produce the 'Kino Stool' that comes in both an ash and walnut wood.
Oshiro used the inspiration of the surrounding Seattle landscape to reconfigure the traditional wooden stool, offering a unique perspective by changing the shape of the stool by mixing bold lines with the grain of the high quality wood.
See the Kino stool in all its glory now available in our shop.
Interview with Kensaku Oshiro
1) Hey Kensaku! Could you give us some background as to why you became a designer and what drew you to this specific industry?

Since I was young I've been interested in those creative professions which let you express your own ideas and think about something new – they give me a sense of freedom.
I don't think I have a specific field. I focused on furniture and products because of the context I was living in; but I won't let this limit myself, my interests, or my works. Each project on any scale is an opportunity and I'm not willing to preclude myself from any experience.
2) Now living and working in Milan, you have had many influences in your work. Such as working in London and spending your childhood in Okinawa. How has Milan in-particular impacted your design style? What would you say are the different elements that you bring from the countries you have worked in? How do they play a part in your design today?
Having lived in different countries has surely opened my mind, teaching me great values and cultural heritage. Even now, the possibility to travel among such different realities is still important to my personal – yet professional – growth: I've learnt to get to know myself from different points of view.
Each journey gives me a fresh look into the culture and customs of that place.
Milan took me to a finer level of creativity: its context, both personal and professional, is full of creative stimuli. Here you can "breathe" design.
3) You have a particular interest in craft and more traditional methods of making. Why are these hand techniques so important to you? Do you think they are still relevant in this modern age?
Craftsmanship is the fulcrum of human society; it has an important role in the development of civilization. Nowadays we can think that these values are getting lost, but they are – and will be – the starting point for the new technologies. Everything is about the artisan know-how: industries can renew their method and techniques, but still has their roots in craftsmanship. Also, the handmade is still part of some industrial process. The hand, with its margin of error, it is often determinant for the aesthetic of a product and is indeed sold as an added value.
Perfection is not always a synonym with quality; but the imperfection is always synonym with "truth".  
4) Working with Seattle-based Memo Furniture on the 'Kino Stool', what were your initial thoughts when you started this project and how did you want to approach the design of this piece?
You can find a furniture manufacturer anywhere. So what is important to me is to "celebrate" both the cultural and the environmental context. Therefore I wanted to use wood due to Seattle's forest heritage. I want a product to express the qualities and values of a place.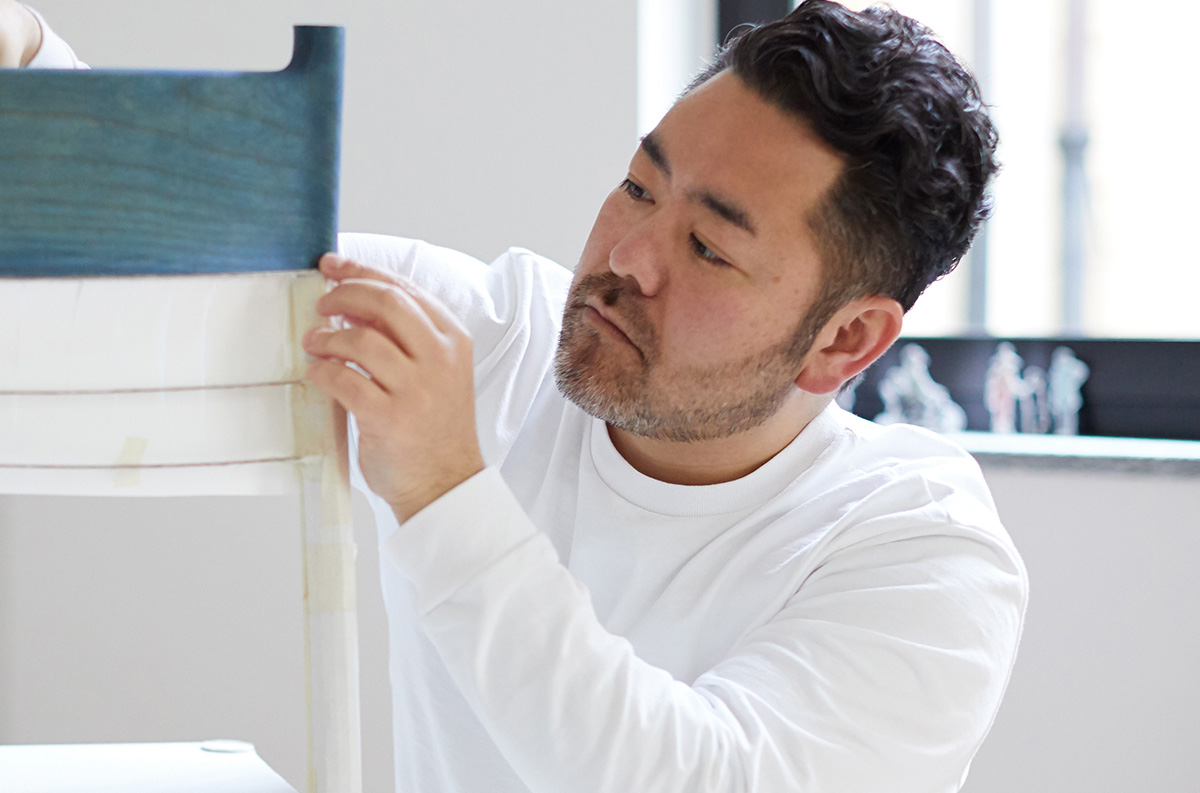 5) How did your research of Memo as a company inform the design of the stool?
Memo is a fresh company and this gave me a positive sense of freedom.
It brought me to think out of the box, in a participatory attitude, so that a fresh idea that could match their pro-positive spirit.
6) Can you give us an insight in to the naming behind this stool. Why did you choose 'Kino' as a name and does this have any particular meaning?
Actually, it's very simple. In Japanese Kino means "made of wood". So I named it this way to celebrate the natural material. Also, it sounds friendly and the lettering fits the aesthetic of the stool.
7) The stool has a main structure with the inner supports that angle in, creating this intriguing space below the circular seat. The seat and main frame look almost seperated. What was your thinking behind this design choice?
During the visit to Fulcrum cafe I pictured a bright and transparent space, where the angle of the light was surprisingly low, as coming from the side and casting shadows on the walls instead of the floor. This brought a new vision of a stool.
So, as you discover this detail you completely change your perception of it – a revealed lightness in contrast with the solidity of the structure.
8) What is the direction of the design industry going forward in the next 10-20 years? What would you like to pursue personally?
Design will keep on interpreting the needs and the desires of the society, always having an important cultural role. I would like to continue to work on projects which bring new values to everyday life.
9) To finish up, what would you say to other creatives who are starting out as a designer? Any words of wisdom for them?
Firmly believe in creativity. Have fun.
Click here to see the Kino stool in Ash & Walnut in our shop ⟶