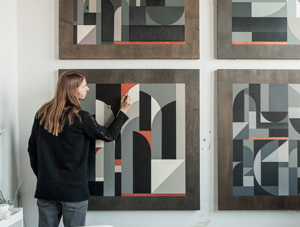 Abstraction with Lines – Work by Brooklyn-based Artist Tony "Rubin" Sjöman
I find it a little amusing when you hear comments on art, those like, "I could do that" or "my child could draw that". Maybe for someone like myself I'm viewing more than just the artwork itself, it's the creativity and mindset that goes behind the work. Not only that, but the concept and the different mediums used.
For example, people might look at the work of Josef Albers and think that there's no skill in his series "Homage to the Square". In fact this was a test in composition and detail. Although he set himself boundaries and rules, actually he created complexity in simplicity, with the colours simply interacting with one another. This is why I was drawn to the work of Tony "Rubin" Sjöman, a Brooklyn-based artist who is known for his complex, abstract geometric style.
Rubin, aka Rubin 415, has his roots in Scandinavia, and this can be seen in the work above and below. I liked how his work transcends canvases and prints, it's also available outdoors and in public spaces, but most of all I like the obvious nod to the traditional block printing style. It gives a sense of craftsmanship behind the work, it's also great to see such clean lines and simple shapes mixed in complex collages. Anyway, I'll leave you to peruse these artworks here and admire more on his website linked below.