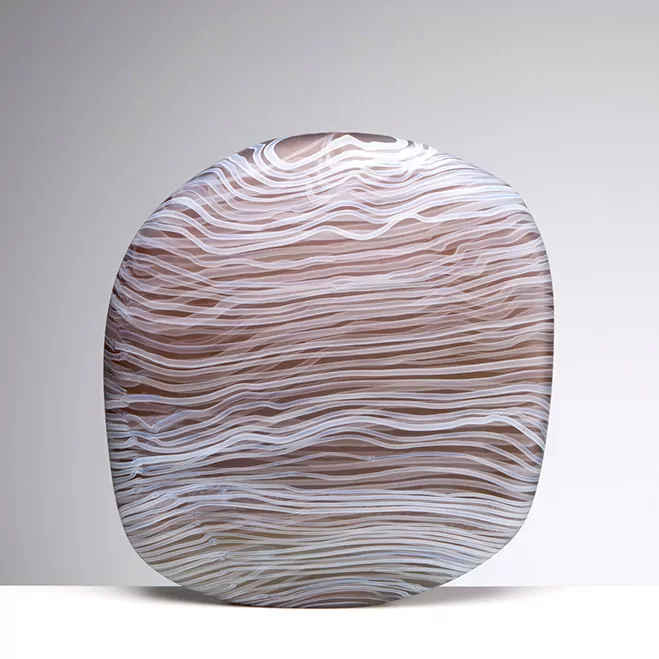 Rhythm, Pattern & Detail – Glass Vessels by Clare Belfrage

Clare Belfrage, Awash #010414, 2014, fused, blown glass with cane drawing
I've talked a lot about reoccurring themes in the past, it becomes even more apparent with the articles that I place up here on the blog. You can see them all in a grid type setting so patterns tend to emerge. I think over the last few months focus has weighed heavily on sculptural forms, inspiration in nature, and block colours. More of the same here today with the work of Australian creative Clare Belfrage, who creates these fantastic handblown glass vessels with linear surface patterns.
Australia seems to be one of those countries that never gets enough praise for its talented creative scene. There's a lot of top quality artists working in the country, and as a fairly new nation you often see them reference others in their work, especially Japan, Korea, and China which are close locations with a strong artistic heritage. Some of these traits are quite apparent in the work of Clare Belfrage, her rhythmic glass vessels are obviously inspired by nature.
In her bio she actually notes this as one of her major references, especially plant life, shells, rocks and sand. Alongside using fine glass threads to create an illusionary effect on the surface of the vessels, she blows the forms in a quirky way that almost makes them look like a stone or rock. I'm not totally sure but it seems like her work is a metaphor for the pattern of life, either way I think they're aesthetically pleasing and beautiful to look at. I took the chance to showcase some of her newer work from 2014 thanks to Sabbia Gallery that represent her in Australia, but I do hope you'll go over to her gallery page to browse past pieces.
sabbiagallery.com
canberraglassworks.com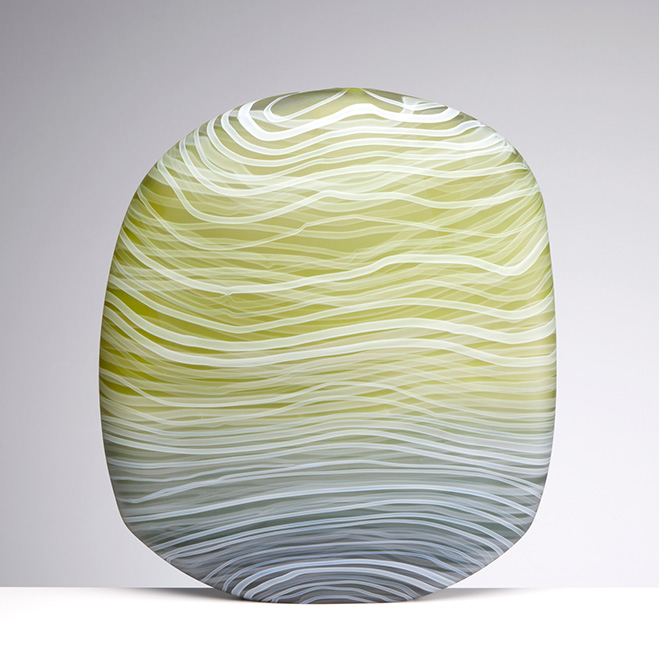 Clare Belfrage, Awash in Olive Green #010314, 2014, blown glass with cane drawing

Clare Belfrage, Trio in Teal #010514 – 030514, 2014, blown glass with cane drawing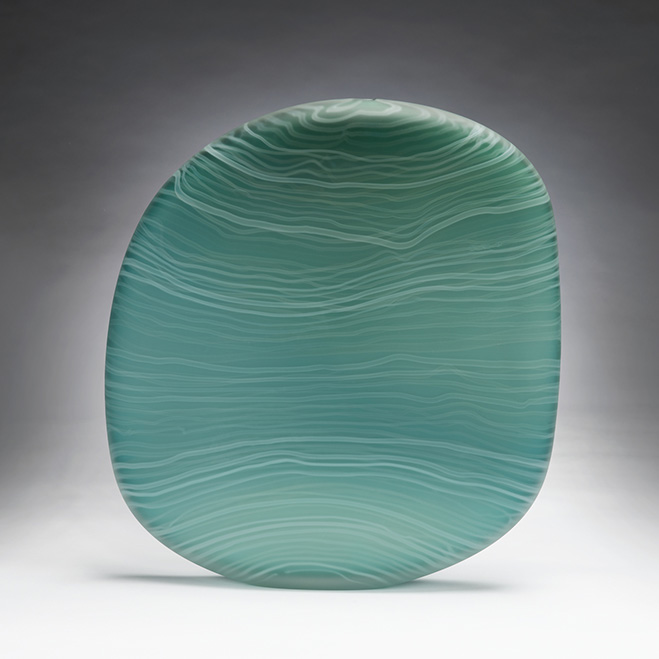 Clare Belfrage, Awash in Sea Green #011113, 2013, blown glass with cane drawing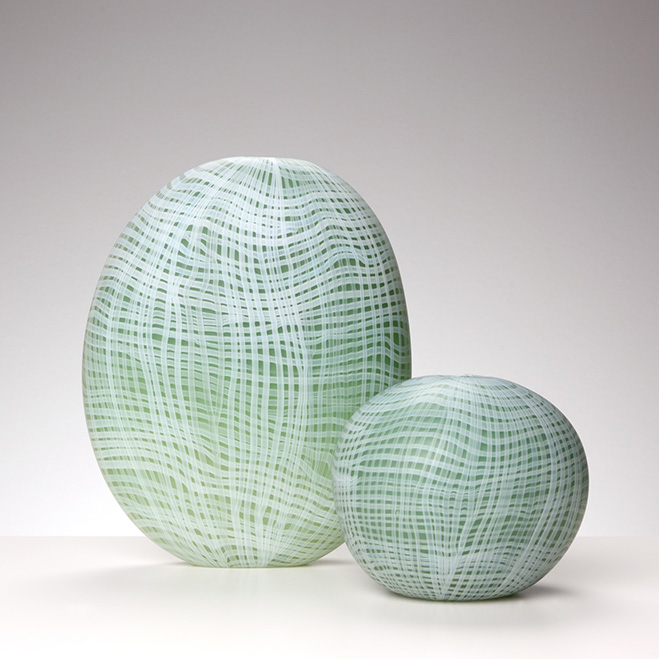 Clare Belfrage, Holding Time – Pair #010614 – 020614, 2014, blown glass with cane drawing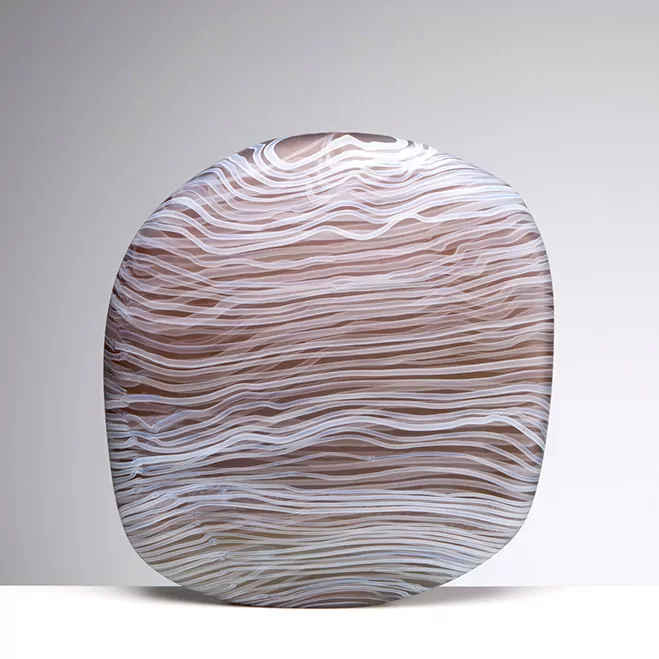 Clare Belfrage, Awash in Brown #020314, 2014, blown glass with cane drawing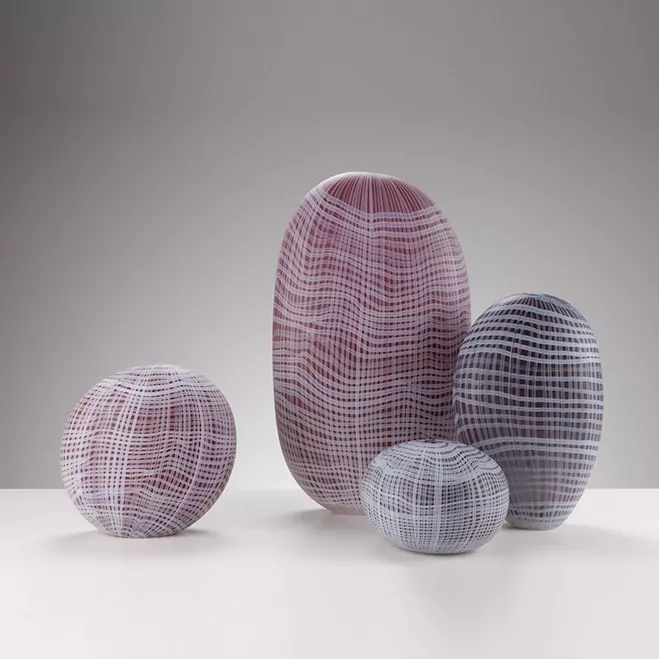 Clare Belfrage, Brown & Russet Collection #010814 – 040814, 2014, blown glass with cane drawing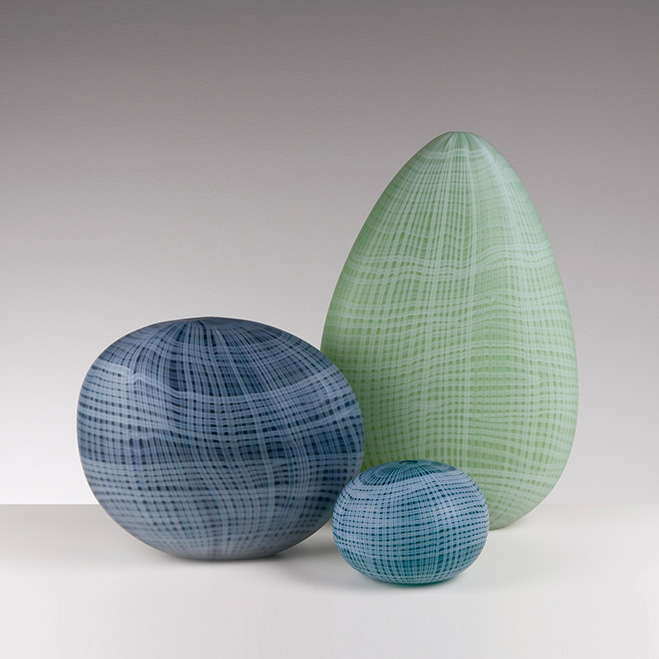 Clare Belfrage, Gathering #010714 – 030714, 2014, blown glass with cane drawing