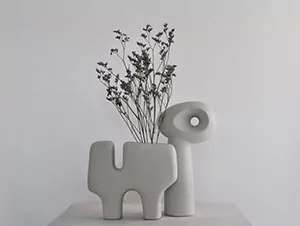 Sitting Harmoniously – Groups of Ceramic Sculptures Handcrafted by Clay Canoe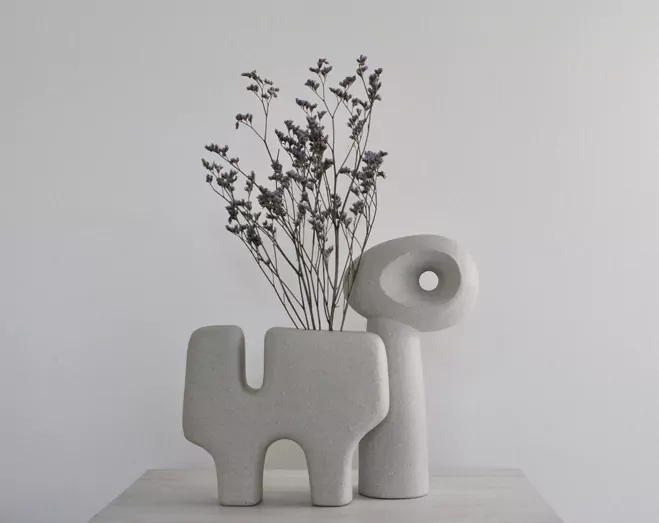 There's something very pleasing about seeing a number of works come together to create a grouping. Sculptors are very talented at this, generating a concept that can then be turned in to a series. A maker who I personally think perfected this with ceramic was Australian ceramic artist Gwyn Hanson Piggott who made porcelain compositions that were even more intriguing thanks to her strict use of functional shapes. You should definitely check her work out if you haven't already.
Fellow Australians Wyan McAllister and Kyle Roddenby are the craftsmen behind Clay Canoe and produce these sculptures from clay at their studio in Newcastle, New South Wales, Australia. Although they have a slightly different aesthetic to that of Piggot they are also producing timeless and beautifully crafted objects by hand. My favourite works are the small groupings that sit harmoniously and would make a perfect set in any home. They are modern but still reference some great sculptures of the past.
Looking through the names of the pieces you can see that Isamu Noguchi is an obvious influence, as well as a Japanese aesthetic that comes through strongly, although you might associate this naturally due to the textures and subtle glazes found in their work. Overall a fantastic range that is incredibly popular and you will do well to get your hands on them. More pictures and objects like this can be found on their website. Certainly an inspiring studio.