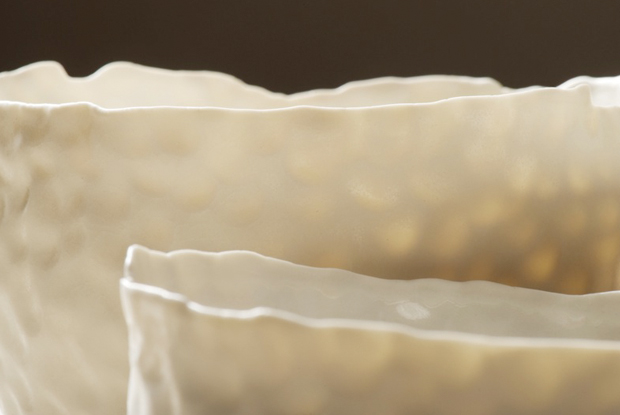 Porcelain Creations by Nathalie Derouet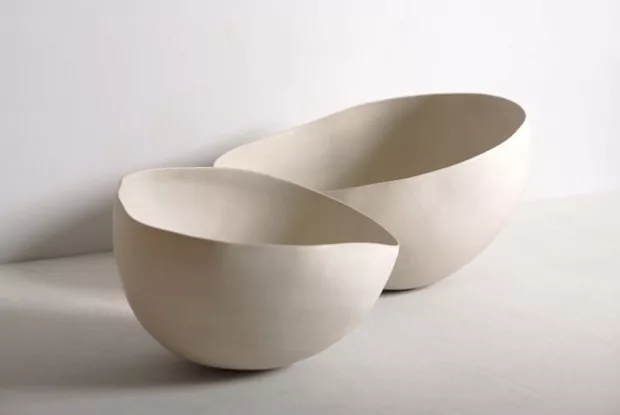 A set of astonishing creations by French artist Nathalie Dérouet. I'm not one to bring across many artistic works, as I'm quite a functional individual and don't admire a gallery setting for a number of reasons, but often I find myself taking inspiration from forms in this category (even if it be from a distance). These porcelain pieces are exceptional and quite architectural, smooth exteriors like walls, reminding me of the surfaces that some of my favourite architects have played with (Tadao Ando, Le Corbusier, Aalto etc).
Nathalie lives and works in north-western France, Douarnenez to be exact, where she owns a ceramic workshop. She creates unique bowls, vases, dishes, pots and various other containers that have a void or open space. Taking inspiration from Chinese and Japanese ceramics, countries where refinement and sophistication are present in every objects, Nathalie looks to play on light and translucency where the walls are so thin that it creates interesting patterns and textures. When you see the third and fifth image down you get a sense for this incredible technique that leaves natural effects throughout each vessel. My favourite has to be the bowls in the last image with their wavy interior, I also like the more simplistic ones, as seen above, which offer something a bit more sculptural for the home environment with their wilting side walls.
I decided to pick out a small selection but there's many more on her website to be seen, I'd encourage you to go take a look now. If you can believe it Nathalie fires these at 1300°c which puts the works to the test of resistance. She can then explore the limits, tensions and breaking points of the porcelain, this alchemy of clay turning almost to glass is quite captivating.