Vicki Grima, 87 Spoons Project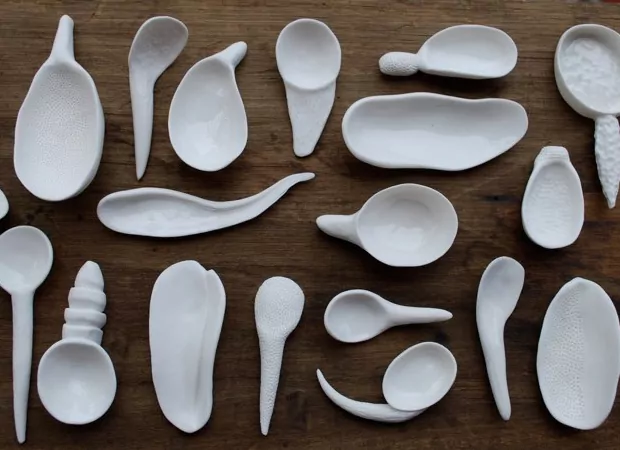 I've got the biggest admiration for the creatives that take one field or form and apply influences they've found elsewhere to create something truly individual and unique, which in turn throws conventional thinking on it's head. Australian artist and ceramist Vicki Grima snuggly fits into this bracket given her bohemian style of creation and her sculptural approach to the humble table spoon, so I'm delighted to be bringing this project across for you all to admire today.
Vicki first began developing this series whilst on a trip to Ubud, Bali with seven other artists where they considered the relationship between food and the vessel which it's traditionally presented in. After two weeks of a Culinary Clay workshop she returned home with an abundance of ideas for the tiny table tool, pulling shape and texture from surrounding nature, with obvious references to shoreside shells through the set. When Vicki finally finished experimenting with this form she had completed 87 spoons in total, having brought back two thousand images of vegetables, spices, herbs, palm leaves, coconut shells, old twisting vines and various other wildlife to inform her project. She began each piece by pinching it into shape before letting it nestle into her hand to define the shape and size, which is where these objects find their organic nature.
Each stands as an expressive nod to Vicki's journey to Bali but what I love most about these is they also have a function in the kitchen too. The artist explains on her website she doesn't want these to be seen as purely decretive objects that are too delicate to be used. If you enjoy these I'd recommend taking the short click across to her personal page as this is by no means the only inspiring project she has undertaken. If Vicki isn't working on a project of her own she can often be found editing The Journal of Australian Ceramics which is the countries widest read ceramics magazine, as well as contributing to behind the scenes of Australia's Ceramic Association also. Somehow she manages to find time to train teachers amongst all of this so I've got a big respect for how dedicated she is to her craft, I'l certainty be following her work closely from here on in.