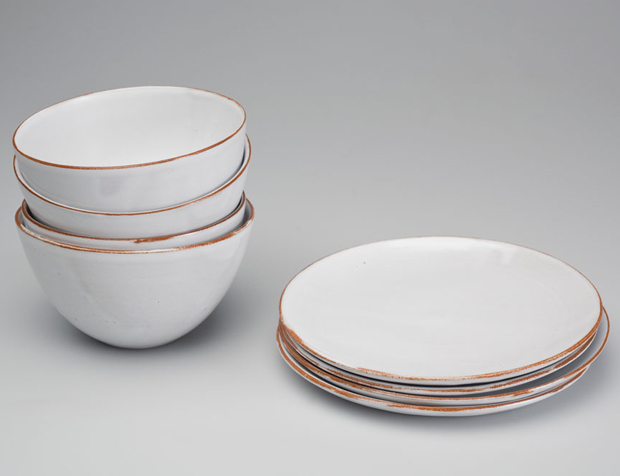 Ceramic Objects by Tara Shackell
Today I'm going to highlight some incredible ceramic work by Tara Shackell, a ceramic artist living and working in Melbourne. I've come across her work several times before and I thought it was about time I showcased it on the site, it's one of those things where it seems like fate. Tara mainly makes functional tableware which is quite appealing in itself, I like how pottery can bring this out in people, you get to sit and contemplate how you can make an object that has some use. Even if it's not functional in terms of eating or drinking it will still have some sort of place in an environment, whether it be decorative or sculptural. The main bunch of her collection is white tableware which seems to have been produced in a red clay with a white glaze, I like how she's let some of the texture and background blend into the forefront in such a subtle way, it adds real character to all the pieces and leads to inconsistencies, thus making each one unique.
Her newer work for 2012 seems to mainly revolve around stoneware which is also a real fascination for me. I've not got much experience in stoneware where as I know a little bit about ceramics, so it's really intriguing to see the different shapes and forms which can be created. This top photo for example titled 'Landscape' was taken in 2010 and I think these vases and bowls are absolutely fantastic, so quirky and different, like none other that I've seen before. The newer ones can be viewed as you scroll down this page, in the third image and also the last, the textures and shapes are all mind blowing and I'm also a big fan of the colour brushed on the top of each. Really individual and creative.
Tara obviously has an abundance of talent and experience, but I was thinking this set should hopefully inspire you all to think about form, colour, and also surface in everything you do as a designer. The way you pick up and visualise a piece is very important, particularly in the handcrafted sector. I'm definitely going to take a lot of inspiration from this myself and hopefully pull it into some of my own projects. For now head towards the Tara Shackell website where you can view plenty more of her work.