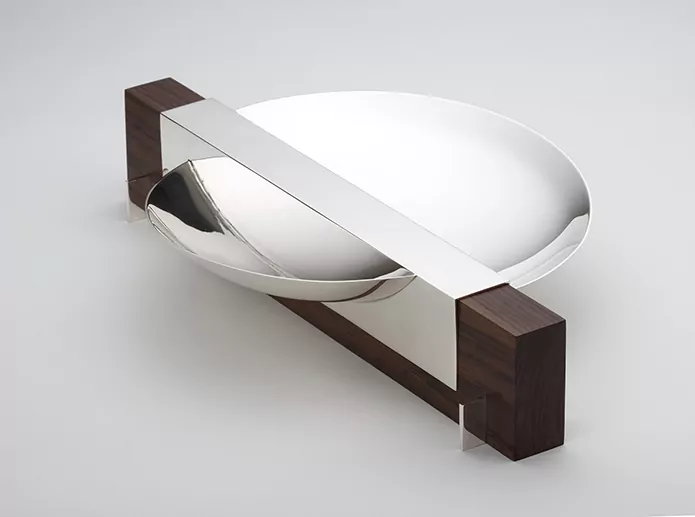 Functional Silverware by Jacqueline Scholes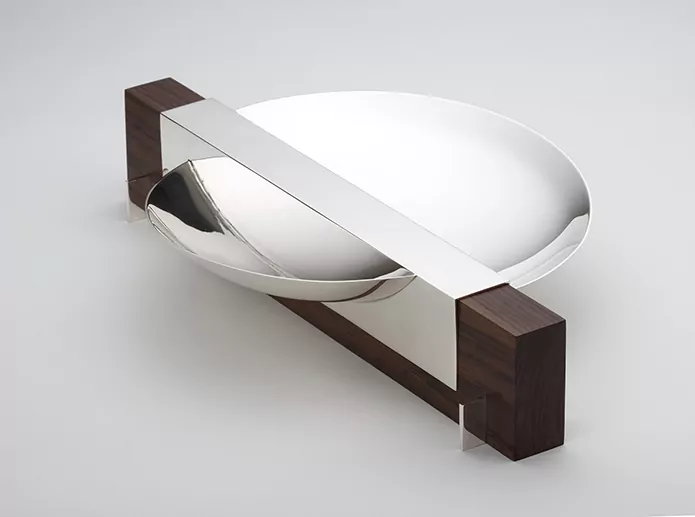 Silver dish and Rosewood support, spun and hand fabricated bowl
One of the more interesting crafts, in my opinion anyway, is the art of metalworking. I was fortunate enough to connect with Jacqueline Scholes who provided me with some fantastic imagery and a good idea of her design process, also what inspires her and how she became a silversmith. Often I get comments about metal lacking warmth that other objects made out of wood or clay might own. This is what interests me as a designer, particularly in tableware as the form of the metal has to be just right to be both functional and aesthetically pleasant on the eye. Anything less than perfect shows up like a sore thumb. Working with metal seems to have an indestructibility and solidarity, although you can create organic, flowing shapes on the other hand metal can often feel mechanical and structured. I suppose this juxtaposition is part of the attraction.
Jacqueline earned her Masters Degree at the Royal College of Art in London, where she studied within the Goldsmithing, Silversmithing and metal work department. In London she founded her own designer silversmith business, as well as teaching small groups of individuals basic silversmithing and jewellery techniques. Scholes has now been making tableware for over a decade, and gets satisfaction from making objects that are both elegant and functional. It seems to me that this functional aspect is a major part of her design process, she says that she's "inspired by the celebration of eating; the relationship between food and tableware, as well as the interaction of the diner."
My favourite works are those that combine the rosewood material, it's a fantastic contrast and enhances the silver quite beautifully. Like many of the makers we showcase here, Jacqueline uses traditional techniques like raising, planishing, spinning and fabricating, she now passes these skills on to the next generation as a Metal Work Tutor at Liverpool Hope University. A couple of the dishes remind me of the Metallwerkstatt (metal workshop) at the Bauhaus, particularly those pieces made by Marianne Brandt which were groundbreaking for the era. I hope you enjoy these works and will head over to Jacqueline's website to view more, all of these can be made and purchased.

Salad Servers, Silver and Stainless Steel, May 2003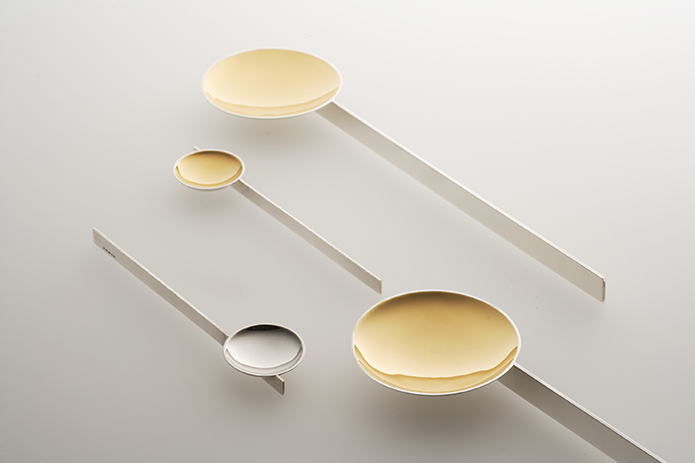 Serving spoons and condiment spoons, Sterling silver, gold plate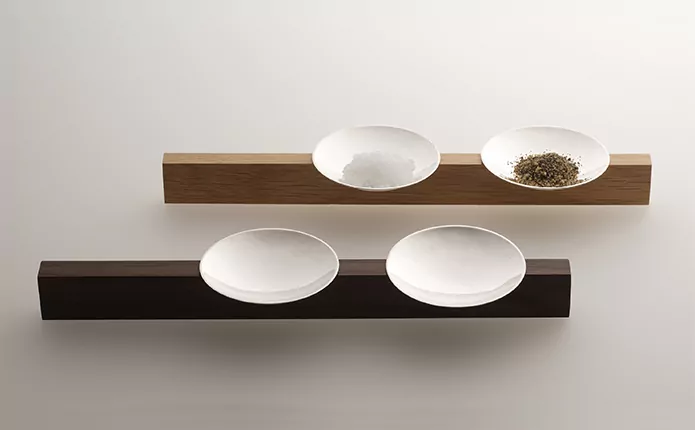 Salt and Pepper dishes, silver, black gold plate and rosewood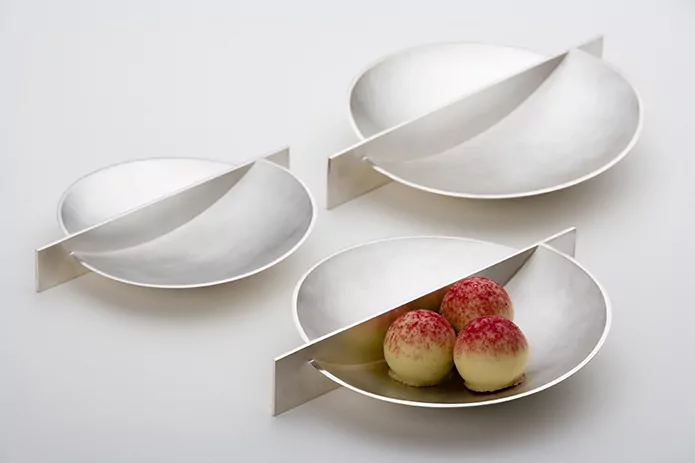 Silver dishes, hand formed and fabricated, fine silver

Serving spoons, hand fabricated, sterling silver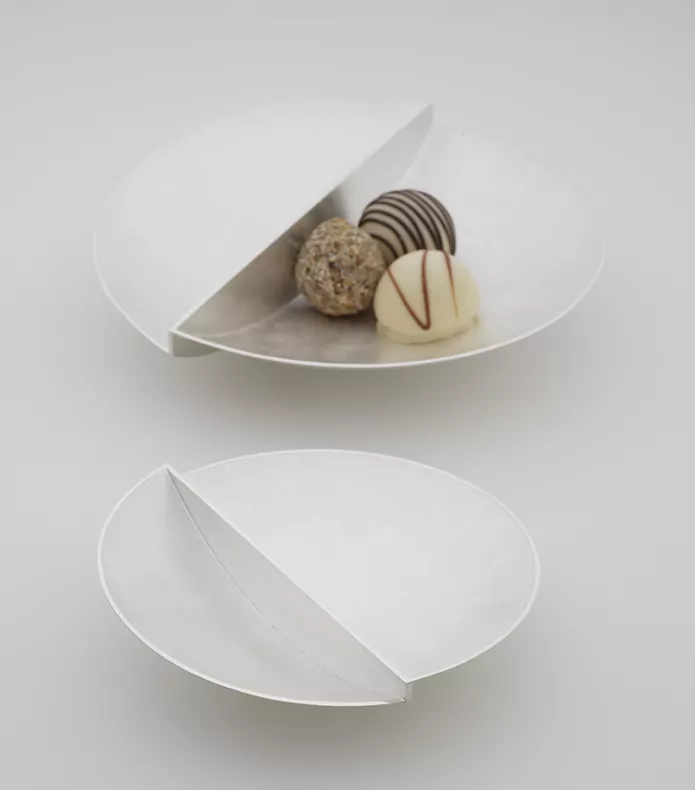 Condiment dishes, fine silver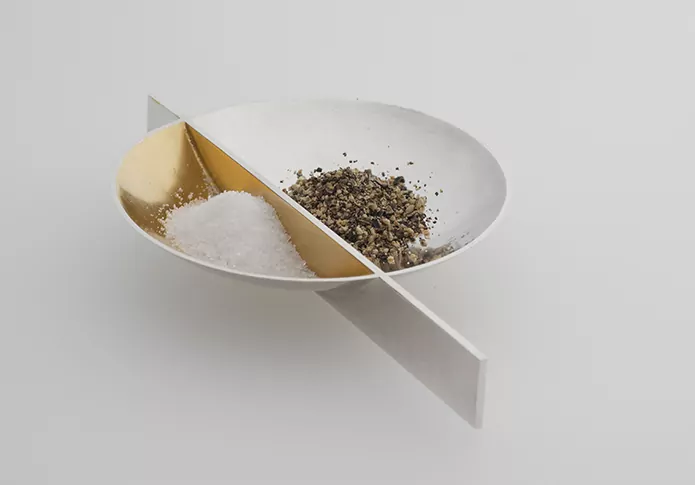 Salt and pepper dish, sterling silver, gold plate