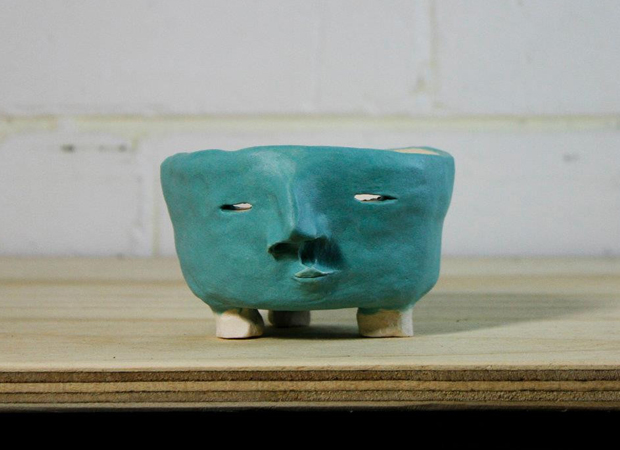 Potheads by Maker Kim Jaeger
It almost seems ironic that I've talked about two similar artists in the space of one week, previously I showcased Stella Baggott from the UK, and today I'm pointing out a film I watched over on vimeo about ceramic artist Kim Jaeger by Historia Films. Kim's been one of my favourites at Mr Kitly for a little while, who by the way have updated their online shop recently, and is always making experimental shapes and forms. Sometimes they're bordering on abstract or expressionist, other times they're much more subtle but with every pot having that perfect amount of character. So this film was both enlightening and opened my eyes up to new processes in the workshop, most prominently clay building with the hand.
As someone who regularly visits a pottery workshop I usually end up on the wheel, trying to hone my skills on one of the hardest apparatus. Often I assume nothing of hand building, but from looking at these wonderful examples by Kim you get a real idea of the quirkiness and texture you can create from the uneven clay. I originally assumed when I saw them online that they were partly thrown on the wheel, but after viewing this film it's quite obvious why they have both a unique feel and aesthetic. I also think it's nice how kim talks about the faces coming to fruition, through experimentation the characters evolve out of the clay. In fact, I could picture these pots just sitting beautifully on a shelf for decades and decades, being used generously to grow plants and store other items, passed down from generation to generation.
Obviously, I don't want to spoil it too much as I'd rather have you watch on below. You'll learn quite a bit about the maker and get an idea for her work processes, each item takes about six weeks to make from start to finish. They have to go through a couple of firing processes, Kim also works on different ones at different times so often she takes a while to perfect the forms. Overall I find these quite fascinating, I'd love to purchase one for my desk so I can cherish it and enjoy it for many years.
www.kimjaegerceramics.tumblr.com
www.historiafilms.com