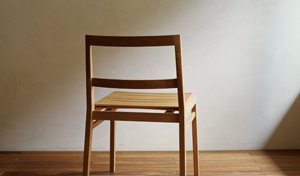 Furniture at Monokraft
Some delicious looking furniture I stumbled across at the start of the week by Monokraft, a Japanese company based in Tokyo. They've got a fantastic website that showcases their work beautifully, so I thought I'd bring a selection of my favourites across for all of you to admire.
As I've said in previous posts it's not always easy to find imagery that's big enough but today I was really spoilt for choice! These workman use a mixture of woods which all look very high quality, these include Walnut, Oak, Cherry, White Ash, and Maple. They're all produced at the workshop of Interior NASU in Higashikawa, Hokkaido, where each piece is made from start to finish by the same dedicated craftsman. When making these they use difficult joining methods to produce delicate lines with simple symmetry, resulting in long lasting furniture.
Monokraft obviously sell these self-designed pieces through their own site and shop, with the goal being to produce furniture that gains character and grows old with their owners. What personally attracted me to this creative company is the fact that they produce strict functional shapes and forms that are extremely practical, not fanciful and eye demanding. Nothing breaks my heart more than when I see furniture that has a really attentive factor to it, to me when you have such a functional item it needs to really blend in with the surroundings and sit nicely with the other items inside. Hopefully you'll be able to appreciate that exact feeling here and the photography is sure to set off your night nicely too. Plenty more can be seen on the website linked below – Enjoy.