Nakashima Retrospective at Mjölk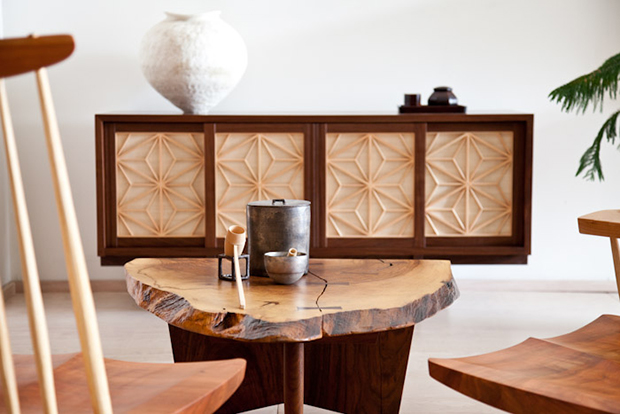 Our good friends John and Juli of Mjölk recently presented the first Canadian retrospective of works by legendary architect and craftsman George Nakashima, and his daughter, architect, designer and head of the Nakashima Studio, Mira Nakashima. As one can imagine, they've put together a large collection of iconic works and have done a fantastic job at fitting them all in to the space in such an eye pleasing way. It's pretty crazy when you get a small exhibition such as this, the vibe of the shop totally changes and you get a real buzz from all the fantastic work. Especially here where you see the mix of Mjölk's clean aesthetic with these quite historic works, which are crafted out of natural wood leaving the so called imperfections for all to see.
Since I live on the other side of the world I unfortunately couldn't attend. Saying that, we have these fantastic photographs that were presented on the Kitka blog (run by the couple) to give us an idea of the interior and how it looks with all the furniture inside. I didn't want to spoil their own post, so I picked out some of my favourites more as a documentation for my own needs, since this furniture is fantastically brilliant and could be used as reference for later handmade works of my own. Plus, who doesn't like to see a nice interior?!
This exhibition runs until August 30th, so make sure you pop down if you live near by to check out all the goodies from the collection. If you are a woodworker you're sure to have a field day looking at all the crafted elements up-close, such as the joinery and grain in the wood. I'm often fascinated by the different types of wood that have been used in the furniture, you get all these wonderful colours coming through and the tables in-particular have spalted tops and rough edges where the bark would have been. It's as natural as you can really get for a piece of furniture.
Check out the complete selection of photographs on the Kitka blog, including shots of Mira and some of the Nakashima family attending the opening of the exhibition. There's also a wide variety of photos showcasing other pieces of furniture and areas of the shop. Oh yeah, as a side-note check out this beautiful geometric teapot by Masanobu Ando (drool!).
mjolk.ca
nakashimawoodworker.com