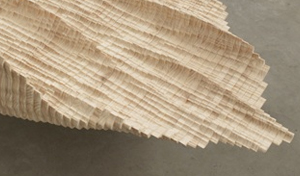 Wooden Sculpture by Ben Butler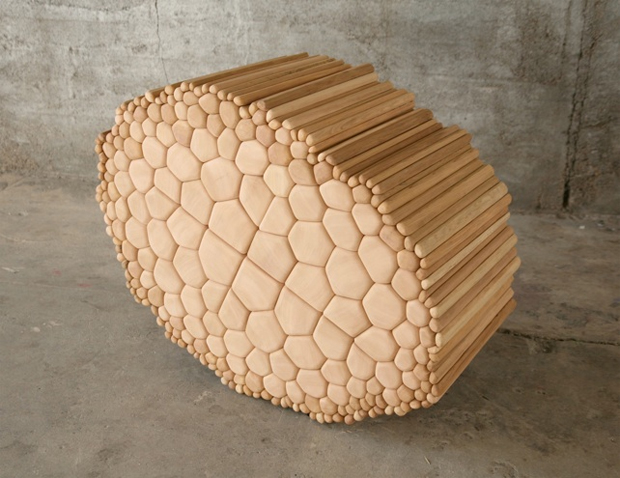 One thing that never ceases to amaze me is the patterns that naturally emerge here on the platform, we often go through periods of focusing on one material making it easy to get overstocked in that specific department. Recently we seem to have kept the balance just right, but not too long ago ceramics were taking over, and wire working before this, with wood being shunned a little bit until the last few weeks with lots of inspiring Japanese projects bubbling up to the surface. So in aid of keeping that balance just right I'd like to introduce you all to a fantastic sculptor who works exclusively in the latter, wooden installations, which really highlight his mastery of the material.
Ben Butler is quickly approaching a decade working as an independent artist, having graduated his MFA in 2003 from the school of the art institute in Chicago. The experimental nature of Ben's creations actually resonated quite a bit with my recent experiences as we visited the Victoria and Albert Museum yesterday to catch the tail end of Thomas Heatherwick's exhibition. I mention this because he too experimented quite extensively with layered wooden sculpture, seeing the level of precision within objects like these up close and personal really gives you a sense of admiration for the hours it takes to perfect the form, sometimes it's hard for a picture to provide the justice this dedication deserves.
I can confirm that these are completely hand-done with no use of computer aided design, which is pretty mind blowing when you examine the detail of Ben's work, particularly the indented piece found in the fifth and sixth images here. I think this is my favourite creation of his by a long way as you can see each mark of his tool around the entire sculpture, it's very striking. One thing that I'd advise you not to miss is the larger projects that Ben has been involved with which in some cases feature sculptures that fill entire rooms. I decided to leave these over on his website as a little enticer for you all to go find for yourselves, so go make the click across via the link below.