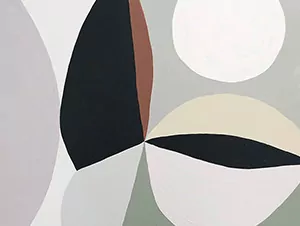 Curving & Swooping – Paintings & Prints by British Textile Artist Laurie Maun
The starting point for any creative pursuit seems to be an experimentation in shape. I would go as far as to say that any artist is most probably thinking about shape before any other process, not forgetting colour as another major element. This is why I think it's so important to constantly challenge yourself with shape and become adept at finding what works and what doesn't in a visual sense.
Laurie Maun, a UK based artist, pulled me in with her unique formations that interweave shape and colour, combining to create artworks that are both intriguing and pleasing on the eye. As much as I like artists who use the basic shapes such as triangles, circles, and squares to create intriguing prints and artworks, probably something that connects to the functional side of me, there's definitely an attraction to the curving and swooping lines seen here.
The dots connect then when I read that Laurie is a Textile Designer and seems to mainly use her artworks as a point of exploration for her textile designs. I suppose textiles are a little more limiting too, so this seems to be an area where she can be much more expressive and free. Anyway, here are a selection of artworks that caught my eye and I hope will intrigue you too. You can see more on Laurie's portfolio linked below. Enjoy.