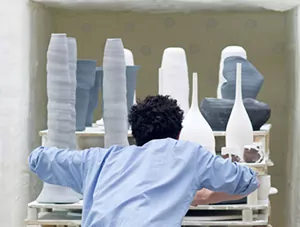 Handmade in Rubí – Design Studio and Pottery Workshop Apparatu
It's strange to think that some of our written content dates back even further than 2012, and in that time I've seen a lot of trends come and go. But what hasn't changed is our dedication to showcasing simple design, objects with clean cutting lines and character added both through the story and manufacturing process.
Barcelona based design studio and pottery workshop Apparatu are particularly unique in this regard. I decided to revisit their work after almost 4 years, and it's amazing to see what they've been able to achieve in this short space of time. It's also inspiring to see the progression throughout their whole collection, and I'm especially in awe of their tendency to experiment with bespoke items and then translate these in to a series of objects.
In the furniture collection titled Dektonhenge, featured in the image above, they studied the origins of stone and have tried to recreate a digital image into ceramic material. The process the ceramists came up with involved transforming the material from a liquid state to a solid one, to then be polished and fired at a high temperature. Overall a fantastic set of projects, and I recommend you see the rest on their website linked below.